I started downhill skiing in my early twenties, fast forward 10+ years and I now consider myself a confident skier that LOVES the sport. Starting a new activity as an adult can be intimidating, especially if you are trying to start a sport that your spouse or friends are already proficient in. I truly believe if you have the interest and take some time that you'll end with a positive outcome. 'Never stop learning' doesn't only apply to what is written in books but also what we can do with our bodies.
I have participated in a few different women's only ski camps and this is what I learned…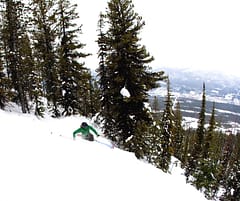 Women's only camps and clinics have been a uplifting, confident building, ski honing, and smile forming experience. When I first started skiing my now husband was already a very strong skier. He was extremely supportive and patient during the first few years I strapped on my first set of skis, but it was also frustrating and stressful at times learning from him (first weekend on skis ever he took me down a black run…it was not pretty!). Being taught by your loved ones and friends can be a good and helpful but sometimes you just need someone you don't know to tell you what to do.
I strongly believe in taking an sort of lesson or course to increase confidence and skill in anything you want to accomplish. What has made me excited about the women's ski camps is that I love seeing other women rip, jump and be bad-asses. I find it empowering. The amazing thing about the ski clinics I participated in is that the age range of attendees were from mid-20's to 60. The 60 year old could ski fast and with confidence, she was looking for a good time out and to learn the mountain better to enter into narrow shoots safely.
Stoked ski bud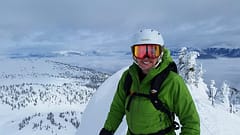 5 Reasons to Sign Up for a Women's Ski Camp
Instructors are Badass: ski camps are taught by pro skiers, coaches or instructors. If they don't have credentials read about their background and make sure their style of skiing is a fit for you.

Camaraderie: the energy of the group is always awesome (from mine and my friends experience). Excitement, nervousness but most of all ENCOURAGING. Don't think you can do a small (or large) jump on skis? Have 10 women with similar skill level to you do it before you and cheer you on. You can accomplish more than you think in a weekend.

Skill Improvement: your confidence will improve therefore your skill will improve. I have talked to friends and strangers about their experiences at women's ski clinics and they all feel strongly that their confidence on different terrain and their ability increased significantly.

Options: there are lots of ski camp options to choose from. You can find 2 hour clinics to 5 day camps. There are camps for the brand new skier to the downhill racer looking to become a little more freestyle. The courses are grouped on ability and then the coaches will learn individual ability from there.

Why not? If you want to learn to ski, want to improve, or just want to share your enjoyment of skiing with a rad group of women then sign up. Get inspired by the different people in your group and enjoy some pow.
When I first attended my first women's only ski camp, Girls Do Ski, in Golden British Columbia in 2011 I hadn't heard of another camp like it. Now there are several women's only ski camps at the hill I took my first. All major ski hills that I've seen in North America host at least one women's ski camp group. The demand is high, they book up fast, there must be a good reason!
Women Ski Clinic coaches about to do free giveaways and prizes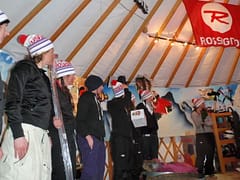 Checking out our fresh lines from earlier in the day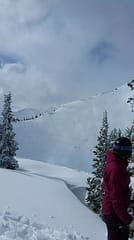 Happiest skiing