Contents
5 Reasons to Sign Up for a Women's Ski Camp
Instructors are Badass: ski camps are taught by pro skiers, coaches or instructors. If they don't have credentials read about their background and make sure their style of skiing is a fit for you.

Camaraderie: the energy of the group is always awesome (from mine and my friends experience). Excitement, nervousness but most of all ENCOURAGING. Don't think you can do a small (or large) jump on skis? Have 10 women with similar skill level to you do it before you and cheer you on. You can accomplish more than you think in a weekend.

Skill Improvement: your confidence will improve therefore your skill will improve. I have talked to friends and strangers about their experiences at women's ski clinics and they all feel strongly that their confidence on different terrain and their ability increased significantly.

Options: there are lots of ski camp options to choose from. You can find 2 hour clinics to 5 day camps. There are camps for the brand new skier to the downhill racer looking to become a little more freestyle. The courses are grouped on ability and then the coaches will learn individual ability from there.

Why not? If you want to learn to ski, want to improve, or just want to share your enjoyment of skiing with a rad group of women then sign up. Get inspired by the different people in your group and enjoy some pow.
When I first attended my first women's only ski camp, Girls Do Ski, in Golden British Columbia in 2011 I hadn't heard of another camp like it. Now there are several women's only ski camps at the hill I took my first. All major ski hills that I've seen in North America host at least one women's ski camp group. The demand is high, they book up fast, there must be a good reason!
Women Ski Clinic coaches about to do free giveaways and prizes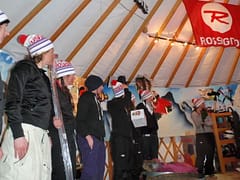 Checking out our fresh lines from earlier in the day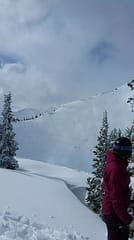 Happiest skiing