Contents
Kids Clothing for Downhill Skiing
Kids need to be warm and comfortable - without the basics covered your screwed. Cotton sucks when it gets damp so if you want happy kids get synthetic or wool layers right down to their socks. Bring a change of clothes from undies to gloves (not including snowsuit and boots) because they will get wet, spill, pee or who knows what else during the day.
Snowsuit: When our kids are under 2 they wore a one piece MEC (Canadian version of REI) snowsuit. As they get older we prefer bib snow pants with jacket. Bib pants can stay on when in a ski chalet and don't let the snow down their pants when they fall. I bought our daughters first snow pants and jacket second hand for $25! It was in great shape and I lucked out. Second snow suit we couldn't find one in excellent condition (meaning not washed a ton and likely not waterproof or thick insulation) so we bought new.
Gloves: We have used multiple brands of gloves and so far have been happyish with Kombi. Gloves are hard! Kids are always touching snow or metal or something that will make hands cold even when covered so consider bringing MULTIPLE pars of gloves to the hill: one pair for skiing and one pair for playing in the snow. The playing in the snow pair will likely get more wet. I'd be shocked if you could make one pair last all day and their hands stay warm and dry.
Snow Boots: Young kids like to run and play and ski boots are really akward to walk in. Have a regular pair of boots to have them change into when they aren't skiing. We also bring a pair of Hut Booties (Slippers) to play in inside sometimes.
Belacklava: We have one for the cold days, the brand we have is Bula and is a thin material that fits easily under the helmet. I wouldn't recommend fleece as it would be thick under the helmet. If you don't have a belacklava at least have a neck tube. The little faces get cold easily!
Wool Socks: Brand doesn't matter to me. We have used Kombi kid wool ski sock and they don't slide down and keep them warm all day.
Under Clothes / Long Johns: Our kids only have one set of long johns each right now which are great for quick dry and wicking away sweat. Sometimes they wear them all weekend. However our kids have also just worn synthetic play clothes and have been fine. I'd love them to both to have more long johns or wool clothes but there are always cost priorities.
Pull ups: Our daughter was wearing pull-up diapers as she learned to use a potty mid ski season but she is now in regular underwear. Potty training in full snowsuits is "interesting" and pull-ups are very handy to not cause the kid any stress about distance to a bathroom (or parking lot … or snow mound).
Other: We also pack a toque / hat to play in and a spare change of clothes in case they get wet and / or dirty during the day. Our toddler sees other skiers wearing helmets, googles, boots, etc so accepts and understands that she has to as well in order to go skiing. She hasn't fought us on wearing any of the gear except gloves as they get in the way of eating snow! (pro tip: don't eat the yellow snow).
Potty training during winter is challenging but hopefully there are friends to help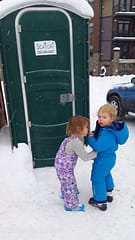 Ski Gear
Downhill Skis and Bindings: We bought our daughter her first pair of skis at age 3, they were 80cm, we are still using them at 4 years old. They were WAY too long last year. We bought our little 2 year old 60cm for this year. Here is a great chart for sizing kids for skis (they go up to about their eyes). Kid and Youth Ski Size Chart
Ski Boots: The smallest boot size we have found is 15.5, which is about a size 8 US shoe. Our kids were both a size 6 US using these boots and they stayed on their feet since they aren't being aggressive down the slopes. We highly recommend getting the kids to try on boots. We have only bought used so each pair can fit a little different.
Helmet: There are many brands, most easily adjusts inside and come with different size padding. Ski / snowboard helmets are different then those for skating, hockey, bike or any other helmet! They are made to protect ears from the cold and for snow sport related falls. Again try on to see what fits your kid or rent from the hill. Helmets usually fit for years as they adjust in size.
Goggles: They keep eyes covered from the wind and blowing snow. Kids may not like them until they walk outside and want to fully cover their face.
Ski Harness: This could be a long piece of rope that goes under their arms or an actual ski harness. We have one called the lil ripper gripper. Harnesses are to assist parents slowing down or turning their child so the kid can learn to turn and stop but not go racing down the hill. It is awesome!
Poles: We haven't used poles with our kids yet, no need for them they don't need to pole plant and will just get in the way. Kids need to learn how to use their skis not focus on poles.
Geared up and waiting their turn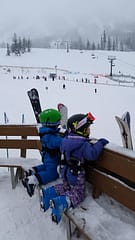 Food
Food: Pack more food then you think you will need; sandwiches, wraps, fruit, granola bars, cut up veggies, crackers, cheese, pepperoni sticks, raisins, nuts, dried fruit, yogurt, etc. Don't forget mom and dad need plenty of food too.
Candy! We strongly believe in eating healthy but skiing is hard work and can be cold. If you are at the top of the gondola or have a kid about to melt down because of the elements give them something to perk up. It is supposed to be fun and little surprises will be the things they remember. They don't need a whole candy bar, just have 5-10 Smarties or 5 cent candies. One candy can go a long way on a ski hill (although I guess if your kid regularly eats tons of candy it may not have the same effect?). This could make or break your day! We also use candy to congratulate our daughter after she is done skiing for the day. We sometimes use it as a surprise sugar boost in a gondola ride. There are many reasons candy and skiing go hand in hand, I even enjoy the occasional jelly bean.
Warm Drink: A thermos or tea or hot chocolate can be a very enjoying during ski breaks. And delicious coffee for the parents can usually be purchased at the hill.
It's always snack time at the ski hill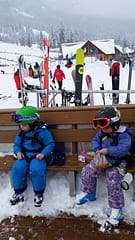 Entertainment
Little kids don't ski all day and if mom and dad are taking turns skiing you may be at the hill all day. What else to do? Play outside, walk around, snack … and toys!
We pack colouring books, markers, cars, stickers and possibly other toys to bring to the ski hill. We never let favorite toys leave the car. There are often other kids to play with so we always have enough activities (paper, crayons, etc) to share and encourage making new friends. Finding other kids to play with can make the day a whole lot more fun!
Bring a child carrier for babies or kids that nap, we wear our kids down for naps on the hill and get plenty of snuggles!
Toboggans / sleds are a great way to take gear and kids to and from a car. They are also fun to pull around at the base of the hill.
Playing in a yurt at the base of a ski hill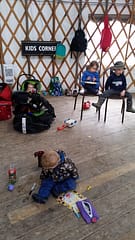 When they are tired, they are tired!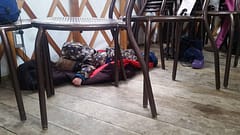 Reality Check
Keep in mind the age of your child: going on the bunny hill may only last 10 minute or it could be 2 hours. One chair lift is a long ways for a 4 year old. Your kid can change day to day on how involved they want to be. We believe in encouraging but not forcing. Our kids participate at a young age because they see us and others ski so they want to ski too. Sometimes all they want to do is play with the other kids at the base of the hill in the snow, that is okay too. Kids under 5 are free at most hills in North America so if they don't ski, they don't ski, better not try to force it.
Once you pack your bags and hit the road once, doing it again will only be easier. Yes it takes time to pack, yes it takes energy to assist young kids down the bunny hill but this can be an awesome time for your family to bond! Celebrate everything! Getting on the magic carpet, standing up, falling down. Skiing can be very tiring for the parent but it has been some of our favorite days.
Kids playing at ski hill base can be just as fun as skiing for them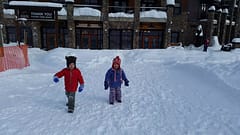 Also check out: