Contents
1. Age Five and Under is Free!
At most ski hills across North America kids aged 5 and under are free! Some ski hills, usually small locations even offer free skiing for 12 and under! Search your locations of interest and 'kids ski free', you may find some great deals. If you have never skied or snowboarded before and want to start but thought having young kids would make it hard - WRONG - you can both be on the bunny hill! You are never too old or too young, well maybe wait till at least 2 years old and over 80 it may be a little hard on the joints. Skiing is a fun family sport that everyone can be a part of. Warning, you may love it and want to go every weekend!
Free skiing rocks!
2. Adult Ski Pass Deals
Skiing can be an expensive sport (compared to something like running, still cheaper than equestrian riding) but like most things in life, if you are really interested in doing something you'll figure out a way. Plus when the winters are long it's important to find something outdoors you enjoy so you can look forward to cold weather more than dread it. There are many ways to lower the cost for skiing. If you plan to go a lot you can get an annual ski pass. If you plan to go a few times, stores like Costco carry cheaper day passes that you buy there and redeem at the associated hill. There are also ski cards such as the RCR card which includes 4 ski hills, it costs you about $100 and you get your 1st, 4th and 7th day free plus discounts on the other days.
Mom and Dad's turn without the kids, hiking to the powder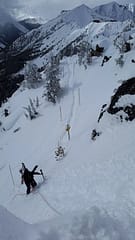 3. What To Wear
Staying warm and dry should be your first two main goals while skiing. Snow suits, ideally a comfortable synthetic or wool layer below, warm socks (ski socks if you have, wool if you don't), good gloves or mitts, toque for when you aren't skiing, sunglasses, sunscreen, something to cover your face like a neck tube if a cold day. Helmet, goggles, ski/snowboard boots, skis and snowboards can all be rented if you don't own them. Ask the experts at rental places and specialty stores on their advice - that's what they are for. We carry a large duffel bag to a ski hill with us with kids gear, toys and snacks. Kids don't usually have the energy or interest of skiing all day so have boots for them to change into, possibly a spare pair of clothes if they get wet and spare mitts (our kids gloves can get soaked just building snowmen and rolling in the snow between skiing).
We use a ski harness to slow/control our daughter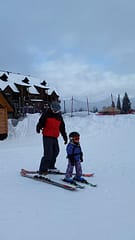 4. What To Bring
As mentioned we carry a duffel bag full of items to the ski hill plus a backpack. Some families carry larger Tupperware bins with their gear, clothing and food. Families do NOT pack light, ha! Other than clothes we also bring coloring books and a few toys to keep the kids entertained and happy. All items are ski-hill only toys so they know they have to share with other kids that may be around (best way to make ski-hill friends is to have enough to share, a colouring sheet can go a long way). Pack a crazy amount of food and water, kids and adults work up an appetite. Also pack a few treats for their awesome job trying a new sport. You will see many ski instructors and parents with a small bag of 5 cent candy in their pocket for the encouragement to sometimes get down the hill. Hot chocolate is always a good happiness maker. All ski hills have restaurants or stores but bringing your own can cut down on the daily costs.
Kids hanging inside a ski yurt having some down time while adults ski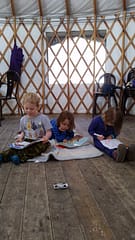 5. Learn The Skills
You got the gear, the snacks and the drive to hit the ski hills … now learning to ski or snowboard is the last step! Everywhere offers lessons, take one early, learn the basics and it will really pay itself off in the long run. You can choose lessons for each family member or ask for a private family lesson. There is childcare at many ski hills if parents want to go out without the kids. There are weekly ski clinics for all ages. Sign up for a class and then go from there!
One year old following in big sis foot prints, he just gets pulled around on the flats but loves it
6. Make Ski Hill Friends
Ski hill friends and family help make your day easier. You might not know anyone else to go with but once at the hill if you see other families introduce yourself. If there are the same age kids they may want to colour inside or play in the snow together. Being at the ski hill together isn't only about skiing it's about having fun around the lodge or at the base of the hill. Kids need breaks (and so do adults) so introduce yourself to others and if you go to one hill frequently you are likely to find yourself a nice community to be a part of.
Friends hanging outside the warming hut at Kicking Horse Mountain, Golden, BC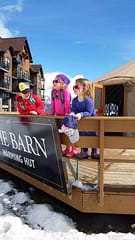 For all of you parents out there that haven't skied before - my brother and I also did not grow up skiing. I started in my early 20's and my brother started when his daughter was about 5. Both of our families now enjoying skiing with our own kids.
Also check out: