Contents
5 Tips for Climbing with Kids
1. Show & Tell
Start taking your kids to the crag, bouldering, show them climbing movies and talk about climbing. We try to show and tell before we have our kids try a new sport. We find this process makes them excited and less nervous.
Dad's taking the lead
2. Location
Location, location, location! Do your research and choose an appropriate location. There is a lot of awesome sport climbing that requires a significant hike, and although these crags may be less busy or 'better' climbing the convenience and ease of a short approach is often blissful in comparison. Our advice, at least to start with, choose a climbing location that has an easy approach for your kids. Some approaches are so short you can almost belay from your car, these are amazing with small kids. The small pleasures of a cooler, lots of water, changes of clothes and toys you don't have to take from the car unless needed is convenient. There are a number of great climbing locations for kids in Alberta and British Columbia. I'm sure you can scope them out almost anywhere in the world. We will put together a list of our favorite family climbing locations soon.
Parking lot to access crag, now that's a short flat walk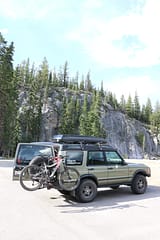 3. Gear
Kids need the same gear as adults. Take all the same gear like you are hiking plus climbing gear. The list may include hats, sunscreen, shoes, a toy, layers, etc. Climbing areas are often cooler, at least in the Canadian Rockies, so we often pack our light down jackets in case it's chilly. For our daughter we have a child's climbing harness, shoes and helmet. If the climb is close to the car pack a picnic blanket, cooler, and other extras you might enjoy.
Toddler sized climbing harness and shoes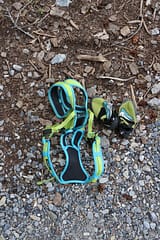 4. Drinks and Food
Snacks are always on my list, we love food and lots of it. Bring sandwiches, fruit, nuts, treats, and make sure to bring extras to share with friends (especially kid friends). If the climbing area is flat we bring a picnic blanket to relax and eat on.
The amount of water a family of 4 can drink is sometimes shocking. We bring our water jug for the car even when we aren't climbing by the car so we always can re-fill when the day is done. We bring at least two liters of water for our dog as well. The dog water bowl always gets tipped over and other dogs often find their way to it as well.
Picnics and climbing go great together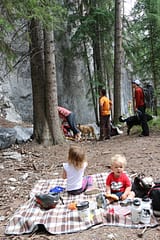 5. Friends
Have a small group of kids with you. This may not always be possible but having playmates for the kids helps entertain, takes a load off adults needing to entertain and they are awesome cheerleaders for each other and adults.
Crag buddies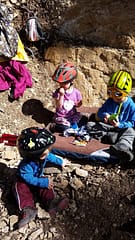 If you don't climb but want to give your kids the opportunity to learn check out your local climbing gyms, many do camps and lessons for kids as young as 4.
Check Out Other Great Climbing With Kids Posts
Climbing with Preschoolers - Born to be Adventurous
Kids Climbing Gear - Off-Road Discovery
Rock Climbing with Babies and Toddlers - Off-Road Discovery