Contents
Top 7 Attention Holding Road Trip Activities
1. Bag of Random Toys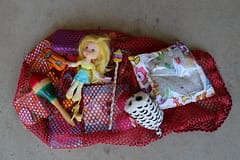 We are counting our bag of toys as one activity and will highlight the longest lasting toys below. We have one large mesh bag full of random toys we have collected from our house including cars, dolls, few lego pieces, plastic animals, pencil with eraser to stick on and off, sewing boards, busy bags, etc. We pull out of this bag and hand toys back as needed. The back seat will end up full of toys kids are happy playing with. Sometimes we hand the toy bag back and they can pick out toys themselves, put the toys back in or just play with the draw cord on the bag.
2. Books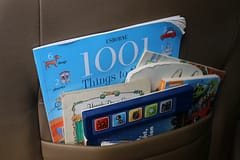 We have a collection of books in each of our vehicles. Lift-the-flap books are a hit with our one year old. Our 3 year old loves all books and enjoys flipping through pages and we can talk about what she sees or ask her to tell us a story.
3. Magnetic Drawing Boards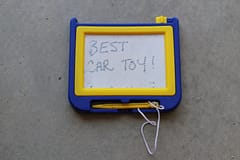 A friend gave us a small magnetic drawing board after her son grew out of it. This is hands-down the best car entertainment toy for young kids. Both of our kids LOVE it. I've seen bigger versions in stores but honestly I think this small size is handy as a one year old can easily hold and play.
4. Colouring - Pens and Paper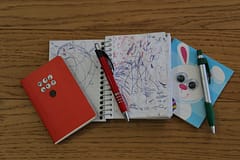 We have brought all types of drawing materials in the car from crayons to colouring books and magic markers (magic as they only colour on special paper). But pens and paper are our favorite! I totally understand if some parents don't want to hand their 18 month old a pen in a car but our kids LOVE pens. We had given our 1 year old son a pen prior to a car ride and he wouldn't let go. He mostly drew on paper, some ink got on him but it wipes off! For some reason our kids interest in drawing with a pen lasts 100 times longer than a crayon or safe marker. Pens and paper have lasted for up to 45 minutes of silent play for us!!! If I had to choose one way to entertain both kids in a car I'd choose a pen and pad of paper every time.
5. Toys That Make Noise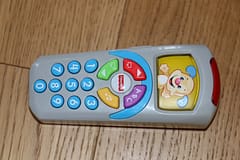 We received a kid TV remote control as a gift, this type of toy is something I would never think of buying but it is an attention grabber for both a one and three year old. They pretend it is a phone to talk into, it flashes, makes noise, flies like a plane, etc.
6. Screen Time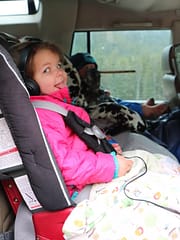 That's right, we are saying use a tablet to entertain kids in the car! Our excursions are often 2 - 5 hours in a vehicle. This is an unnaturally long time to ask a child to sit still. It's not our kids choice to sit in the car that long so I'm happy to give my daughter the treat of watching a movie or drawing on a tablet. Our daughter gets very little screen time at home because there just doesn't seem to be the time, so watching a movie in the car is an extra special treat and it also gets her excited for long road trips. Our one year old does not have the attention span to watch a movie so the toy bag often gets consumed by him. A movie only started to interest our daughter once she turned 3.
6. Snacks, Snacks and More Snacks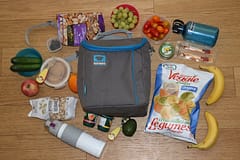 Snacks are a very important car activity in our opinion. Our kids are always hungry. When I pack car snacks I look at the quantity thinking it is enough then I double it. Seriously you can never have enough snacks. We have gone through several cooler bags and we have been really happy with MountainSmith brand because it is a good size and has been durable. Our cooler is actually called The Sixer, meant for 6 beer bottles which is has sadly yet to see. We believe snacks as entertainment require options. I don't pack a ton of any one food. Snacks include all finger food items. I pack two bowls to be able to hand food to the back. I like doing this rather than packing two containers of each item as that takes up too much space. One road trip could include berries, apple slices, carrot sticks, whole mini cucumbers, pistachios, raisins, cheese, pretzels and cheerios. Don't forget the wet wipes or a cloth!
7. Do Nothing!
Seriously, do nothing! When we first get in a vehicle no toys, activities or games are required. Starting a road trip is a new activity for kids so we just sit there, talk about what we see outside, listen to music, etc. As adults we like to relax in cars and it seems like kids also like to chill or nap on road trips. Turn on some tunes, sit back and relax. It's not always going to work but it likely will at least once each car ride.
Remember to Take Breaks and Enjoy the Journey
We usually have stops on road trips for lunch, a dog walk or check out somewhere new. There are other times we have to pull over because the kids are getting antsy and we choose the best spot we can find. These stops are fun family time. Go for a walk, take out the bikes, run around in a circle, do anything to stretch those legs and enjoy the journey together.
Break Time! 8 Months Pregnant, Toddler and Pup - We All Needed To Stretch!