Contents
Outdoor Nature Treasure Hunt
Activity Materials
Pail or bag
Pen to mark off the list (optional)
What You Do
Provide a list of items to find, adjust the list to the environment around you
Tell the kids to only pick items off the ground
For older kids you can time the treasure hunt to see how fast they can find items
Treasure Hunt List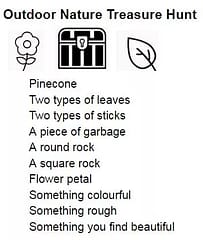 Pail in hand and ready to search for treasures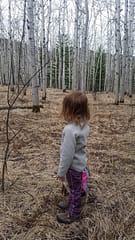 Colour Scavenger Hunt
Our daughter calls these rainbow scavenger hunts. They are simple and can be independently completed by toddlers and still enjoyed by older kids. Make your own on the go with markers or print off a copy to bring. Having the kids make the colour scavenger hunt is an activity to enjoy as well! This is a great outdoor activity but it can also be used as a rainy day activity inside.
Outdoor rainbow / colour scavenger hunt in progress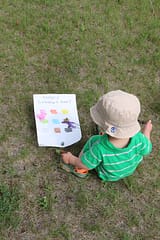 Activity Materials
Scavenger Hunt sheet so the kids can follow the colours on the sheet to find
Pail (optional only if you are collecting items)
What You Do
Provide a colour scavenger hunt sheet for the child to use to find matching coloured items
Outdoors have kids pick items off the ground that match the colours
Use as an eye spy type game, our preschool aged daughter likes this game in the car too
Use in the house on a rainy day and have the kids find matching items
Rainbow Scavenger Hunt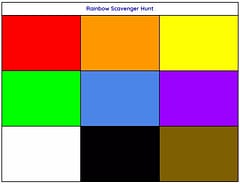 Nature Bingo
Activity Materials
Bingo card, print off or make your own
Crayon or marker
What You Do
Mark of the items as you find them
If there are lots of kids split into teams
No need to pick items up or keep them, this is a seek and find game
Nature Bingo for kids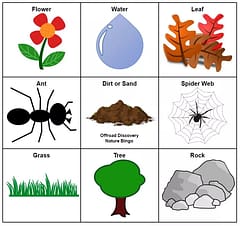 Get outside and have fun!