Contents
SPOT
Initially we entered into the market using a SPOT Satellite GPS Messenger. While being compact with good battery life they lack one critical feature; there was no two way messaging. While you can contact emergency responders or communicate with pre-selected individuals using pre-written messages there was no ability to hear back from and engage in conversation. As many rescue scenarios involve ever changing variables the ability to provide details on what happened or updates can prove to be lifesaving in certain situations. The SPOT is significantly cheaper than the inReach (roughly $150 vs $500, not including monthly subscription fee) so if you want a device and need a low price point it does the job. If you are heading into the wilderness you should probably consider having one of these at the very least.
SPOT device with emergency button covers open
inReach
Enter the inReach which on top of providing a GPS based view of your location integrated through an android or apple phone app this device is also able to send as well as receive messages to any phone number or email address of your choosing. This means that even if we are out cell phone communication and we wind up in a situation that requires a tow truck we can send a text message or email to any friend or family requesting they call one for us after which they can respond directly to our device with confirmation that the requested action has been completed. Within the communication string the message content will even provide exact GPS coordinates of our location. Delorium is the company that created the inReach, it purchased by Garmin in 2016, so it is now the Garmin inReach. We purchased about a year ago on sale when the companies were changing hands so ours says Delorium on it.
inReach and cell phone app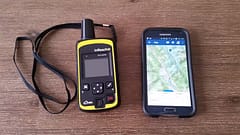 After a year of use our inReach review of the battery has been outstanding for our purposes. We always have it with us when traveling and don't need to use it, when turned on the battery is always full. There are two versions of the inReach, the main difference between the two is that the more advanced model has the ability to receive route maps generated from the Garmin web app for use when in the field. Other features that differ include weight, size, waterproof, etc. With all device options if your phone runs out of battery you are still able to use the device as a standalone two way communicator. For us this two way communication is an important purchase to help protect our family on off-road and backcountry excursions. Having two way communication just to alert people of your arrival to your destination, if you are running late or staying out of reach for further time is always handy. This device doesn't have to be only for emergencies but keeping in touch.
Garmin inReach has provided their own comparison to SPOT features you can check out here.
Google launched their Trusted Contacts app about a year ago which lets you schedule location alerts that work even if your phone is dead or has no signal. This app allows you to share your location with people you deem trusted, and for those people to request your location. This means while travelling you can instantly share your location with chosen friends or family.
Google recently updated the app to allow people to schedule alerts ahead of time. Great for hiking and then not having to remember to check in! You can now request the app to send anyone you select a notification of your location at a specified time. The trusted contacts will be sent your last known location regardless of whether your phone has signal or is powered on. Your phone does not require power as the the alert is handled by Google cloud (google tracks you and sends the last location it has at the alert time). To send current location your phone does need power but if an issue were to arise it would be useful for someone to have your last location before phone connection was lost.
If you choose not to use Google's Trusted Contacts or any other device and are adventuring into areas with no cell phone range at the very least bring a paper map and download the area maps of where you are going to your phone or a GPS device. With a downloaded map on your phone you can use your phone GPS to assist you if really needed (if you remember to download a map). Phones tend to loose power quickly so carrying a travel battery charger is also a good safety measure.
Stay safe and enjoy your off-grid adventures!