Contents
Why buy a Toyota Sequoia for camping, off roading or overlanding?
It's huge. Essentially it's a Tundra that is fully enclosed. It was well designed that the trunk is very usable, there is tons of room in back seat and the third row folds down flat. Our dog sits on a platform in the trunk of the Land Rover, he can now sleep comfortably at our kids feet. He can't even stand in the foot well of the Land Rover it's too narrow.
It's reliable. Who's going to argue with me that Toyota's aren't reliable? I don't have a comments area so you can't anyways, ha.
It's affordable. Compared to many similar vehicles it's in a good price range, especially an slightly older model. We love vehicles if you can't tell already. We appreciate a good sexy, high performance vehicle. Would we buy some really expensive rides, yes! Is that our life priority, no.
The back window goes down. Yup I am calling out this feature because it's amazing! It was a big reason we got the Sequoia over the Armada. We can haul wood and awkward stuff those few times a year without needing to buy a truck.
It's got lots of bells and whistles; SUN SHADES for the kids in the back seat, a dvd player (which we rigged to use tablets with), GPS, heated seats, etc. Maybe you already have all these features but we did not and it sure makes a more comfortable ride with the kids.
Sequoia Improvements to Become a Capable Overland Vehicle
Ground clearance. It isn't horrible but it isn't great. We plan to get a 2 inch lift in the next year or two and with that we'd get bigger tires. The Land Rover is high enough for us to be able to roll under and check things out ourselves, the Sequoia is not. We don't like this.
Diff breathers. The Sequoia has diff breathers. We had a Toyota Mechanic check them for us and from what we were told they are a one way valve. Are they good enough? Not sure.
Then there is the nice to haves; rock sliders, winch, and the list goes on.
Current Sequoia Assessment After One Ski Season and Spring Camping
Winter Test: The Sequoia was impressive for winter highway driving. Our highway conditions are often extreme in both ice, snow, slush and temperatures. We used the tires the Sequoia came with, Bridgestone Blizzaks 275/55/R20 and they were pretty good. They seem to be wearing out fast. We will upgrade to Nokian Studded Tires when we need to replace them. Nothing beats a studded tire during winter, especially Nokians.
Spring Test: Again we used the tires the previous owner had, Michelin XLTs 275/55/R20 which is about a 32 inch tire. We are thinking about putting on a 33 inch tire, preference again is Nokian. The Sequoia feels great with the roof-top tent, hitch mount bike rack and new Thule awning. It has been on forest service roads and our only concern was ground clearance. We haven't pushed the ground clearance at this time. A lift will need to be put in for peace of mind and we'll have to get out to do more visual checks before we drive over things than we would with our Land Rover.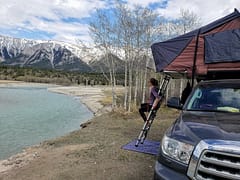 Sequoia Camping Set-up in Back-Country Setting
Now What?
I wrote this to help process what we need to do with our vehicles, maybe you are in a similar situation. For now we will keep the Land Rover, the time and money invested into it to make it exactly what we wanted will possibly not be regained in selling. It's safe to say we love our Rover, it's fun and gets us to wild places. For more aggressive off-road adventures we plan to bring our regular tent in the Land Rover. With that said we have put the roof-top tent on the Sequoia thinking it will get us into 85% of the places we like to play.
Expect to see more Sequoia info here, we are excited to share our journey with this vehicle.
Since this article we did a lift and tire upgrade. It is now more off road capable. Learn more here.