Contents
Introduction
Buying a vehicle is a big deal! We researched many vehicles before landing on our 2013 Toyota Sequoia 2nd Gen (which are the exact same as 2010 - 2017 years and very similar to other models).
We have two kids and had one large dog when we purchased our Toyota Sequoia from previous owners (with 4 kids and dogs). We camp, ski, bike and travel by car weekly. We needed something that can hold all of our gear but also be my (ORD wife) day to day vehicle. These are the top 5 reasons I love the Sequoia for my family.
Don't feel like reading? Watch or listen to our reasons here:
Size: SO MUCH SPACE! We have an 8 seater, you can get captain chairs and have a 7 seater. Our 3rd row usually stays down to accomodate all of our gear however we have used it many times to transport family visiting and kids' friends. Apart from the actual space the storage is well thought of with many cupholders, cubies and spots to hold all the stuff that comes along with kids.
Reliability: Toyota is considered and proven to be one of the most reliable vehicle manufacturers. I have previously owned a Corrola and Rav4. Toyota's are easy to service at non-Toyota dealerships and when traveling if something does happen parts are easy to come by.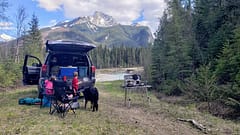 ORD mom is so confident in reliability she'll camp with the kids out of cell service and in the backcountry alone. 3. Cost: It's not the cheapest but definitely not the most expensive large SUV. Buying a used really lowers the cost. It runs on regular fuel which makes a big different and many comparable sized vehicles take premium. Since it's a Toyota and a common vehicle parts and service are reasonable.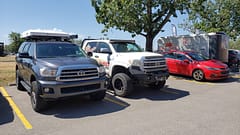 4. Window features: Both the 2nd and 4rd row have window covers, we know these are more and more common now but they sure help keep kids happy. The back window goes down, this is a big reason we went with the Toyota Sequoia vs Nissian Infiniti. I can use the vehicle almost like a truck to transport items and not have to open the back trunk when really full to access things. Wet dogs and other smelly situations allow you to air the car even on the highway without even noticing a window is down.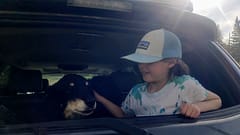 Easy to drive and park: This might not be something you think about for such a big vehicle but it's true. This is the vehicle for driving kids to school and running errands. It is a huge vehicle, however we find it very easy to drive with a good turning radius and easy to park. It is wide so if parking stales are crazy small I do try to park further away so doors don't get dinged. We have driven other large vehicles that weren't as easy to park so this was very important to us.
Good luck on your family car hunt. I'm trying to think about what I don't like about the Sequoia for our family but nothing is coming to mind. Regular gas, leather seats for easy cleaning, comfortable interior, backup camera, and lots of other general features make it a great vehicle for us. If you don't need space for lots of kids, towing trailers or lots of gear it's probably a bigger vehicle than you need. If you camp or haul lots of sports equipment you might want to test drive a Toyota Sequoia!