Contents
Tires for our Land Rover Discovery
Summer Tires Review
Our summer tires are Cooper Discoverer ST Studdable 265/75/R16. No modifications are required to fit these large tires with a 2" suspension lift.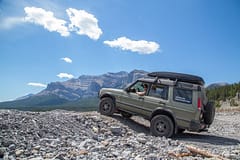 What We Love
All around good tire that works well on mud, rain, dirt, rock and pavement
These are a low noise sturdy 10 ply tire
They wear well, after many many hwy KMs these still have lots of tread
The stiff sidewalls have made for decent to very good high speed steering feel and driving compliance even for a lifted truck like ours
The tread pattern on the sidewall make the tire look more aggressive and provides better traction when in or trying to get out of ruts
We do not use these tires in the winter, our winters are long with snow and ice. Many highways we travel require snow tires by law from October to May. These could be all year tires depending on where you live
Don't Like
Nothing, they have worked great, wish I had something constructive to say but they don't have a flaw yet
Runner Up Summer Tire Choice for Off-Road / Highway
When researching we also looked closely at the GoodYear Wrangler DuraTrac
They look like a good off-road rugged tire and highway tire that you can stud
Winter Tires Review
Our Land Rover winter tires are Nokian Hakkapeliitta LT2 Studded 265/75/R16. Big fan of Nokian tires have them on our Subaru too. Very good quality. Best winter tire out their in our opinion!
Off-Road 4x4 Adventures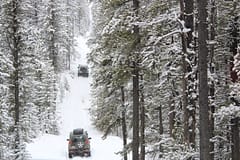 What We Love
Unbelievable grip on Winter Mountain Road conditions
Plowed through deep snow, ice and slush in these
Very quiet for a studded tire
Great road feel when driving on hwy at high speeds due to stiff 10 ply sidewall
Don't Like
Expensive…. most expensive I think
With that said, you get what you pay for
Runner Up Winter Tire Choice for Off-Road and Highway
Federal and GoodYear both make some good tires…
Nothing compares to Nokian
Subaru Forester and Toyota Rav 4 Tire Comparison
To provide a comparison to our Land Rover tires we will talk a little about the tires we currently use on our Subaru and Toyota.
For winter we have Nokian Hakkapeliitta 8 SUV studded tires on our 2012 Subaru Forester xt. I am not sure if this vehicle has less insulation but they sound significantly louder on pavement than our Land Rover. If there is no music on it sounds as if there is a quiet popcorn machine in our vehicle. Although these tires are a little noisy they provide a very confident driving feel with no vibration at any speed. They are great on ice and on dry pavement. 5 out of 5. We can live with the noise of studs for the performance they provide.
Our 2010 Toyota Rav4 Sport V6 has Michelin X-ice tires. Contrary to their name these tires aren't great on ice but I'm comparing them to Nokian Studded Hakka's. Decent on dry pavement and they have worn very well over the winter seasons of 122000 KMs.
Wheels for our Land Rover Discovery
Before jumping into what wheels we have I'll run through a quick comparison of steel vs aluminum wheels. Steal wheels are common for off-road vehicles as they are cheap and easily available to purchase. Steal is heavier than Alloy but won't crack or break as Alloy will. Steal will dent on high impact but you can hammer it out if you choose. Alloy 4x4 rims are stronger than steal but can't be repaired if damaged. A plus is they are lighter so easier to change. Alloy rims are significantly more money. Both do the job and are up to budget, look, do you think they will get bashed around, etc.
Summer Wheels
Our summer wheels are Range Rover P38 OEM punctured 5 spoke, Alloy. We wanted to give them a new look so we painted with a Dupli-color wheel paint and clear coat system and it worked really well. We painted the wheels when the tires were already on, it would have been easier if they were off but we wanted to get them done and not wait to remove them. Our two year old at the time thought taping the tires was a fun activity. We likely used double the tape but the whole family could be in the garage to help.
Prep For Painting Wheels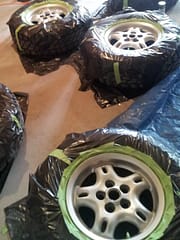 Painted Wheels with Dupli-color, Looking Shiny and New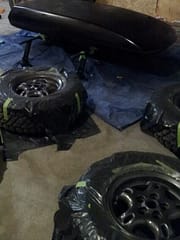 Winter Wheels
Our winter wheels are the original Land Rover Discovery wheels, Alloy. We decided to give them a fresh look and painted them with the Dupli-color system which worked really well. After using the system I would say it is quite important to use the clear coat within the time recommended relative to the application of the color. The clear seems to dissolve slightly into the color making for a high quality look. If you wait too long to apply the clear it may not provide the same depth of clear.
We have not been sponsored by any products mentioned in this post, we just want to share what has and has not worked for us to hopefully save others time and money.