Are you asking yourself, should I lift my Toyota Sequoia? You've come to the right place. When going on an overland trip and we can't crawl under our 4x4 we always get a little nervous. There are 2 main reasons for this. The first is that if you can't crawl under your vehicle you can't see for yourself the condition of the equipment. The second is when driving down rocky roads, crossing rivers or sand you aren't as limited by your ground clearance. After taking our Sequoia for a few overland adventures we asked ourselves, should we lift our Toyota Sequoia? We immediately knew the answer was yes. Below is a description of what we did, what we used, before and after photos, and a video of our Toyota Sequoia off road upgrade journey.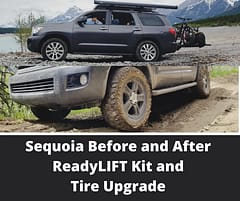 Our stock 2nd Gen Toyota Sequoia Limited 2013 had some ground clearance but you might be scraping your cheek while crawling under the truck. In order to lift our vehicle we decided to use a suspension kit by ReadyLIFT, model 69-5015. For the wheels we were able to find a set of Toyota Tundra 18x8 wheels that we refinished with some elbow grease and Dupli-Color paint. We chose Cooper Discoverer 275/70 R18 tires which are a 33.16 inch tire. The stock Sequoia tire size is a 275/55 R20 which are a 31.91 inch tire. The ReadyLIFT kit does allow up to a 35 inch tire.
You might ask why didn't we change to 35 inch tires?
Stock spare tire location doesn't allow for 35 inch tire
Worse fuel efficiency
Slower acceleration
Why ReadyLIFT vs other options?
Based on positive reviews on Tundra and Sequoia forums (links to resources at bottom of page)
Reasonable cost and lower than new struts and coils
Ability to keep all stock Toyota parts, this is very important to us so if we are on a trip and need to get something repaired Toyota will be able to handle anything that needs to be done on our vehicle
The kit comes with a front differential dropper kit which keeps your CV's (constant velocity) at a better angle than they would be without, again this is pretty important
Comes with a skid plate spacer which prevents rubbing off the wheels on the skid plate
We could buy from a local shop which we always prefer if we can. If you can't find locally there are options to order online like BilsteinLifts has many lift kit options for Sequoia's from spacer to full coil and strut upgrades. It also has other kit brands such as RevTek and ToyTech.
Video of Our Toyota Lift Journey
Taking a 2013 Toyota Sequoia Limited stock to a 3 inch lift
Why we chose Tundra Wheels and Cooper Tires
We have the Cooper Discoverer tires on our Land Rover and they are fairly quiet, have good grip, durable and decent price point
We chose the Tundra wheels because they had air pressure monitors in them and they were in good shape and a good price for used wheels
Toyota Sequoia Wheel and Tire Upgrade Video
Result and Review of Sequoia Lift
Is the Toyota Sequoia good off road? We think so! After installing the lift we gained a significant amount of ground clearance, about 3 inches in the front and 2 inches in the rear. Fortunately we can still fit it in the garage. We are very happy with the increased height and don't feel we need more.
The space lift has given the truck the feeling of much better bottom out protection. We notice this going over bridges and over passes with sharp connection points at high speeds. We are often a fully loaded vehicle. Previously when we drive over these bumps we felt like we were going to bottom out.
Resources
If you are considering a ReadyLIFT kit or lifting your Sequoia here are some links and videos you might find useful.
Forum Post #1 Sequoia lifted, tires and wheels
Forum Post #3 Biggest Tires on Toyota Sequoia
Article on Modified 2008 Toyota Sequoia
Disclaimer: we are not sponsored by any stores or products mentioned. These are our opinions.