Contents
Introduction
Is your car sitting at home for long periods of time? Do you drive only short distances each day to work or school? Both of these things are bad for your car battery. It's easy to charge and maintain a car battery at home. You can use a small battery charger and maintainer like the Noco Genius 10 to keep your battery alive.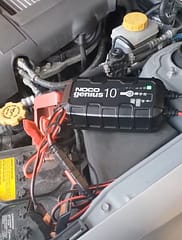 Not all battery chargers and maintainers are made equal! Low-quality ones can damage your battery!
Car batteries can cost anywhere from $80 to $400 Canadian dollars. They are inconvenient to replace unless you live next to a store that 'recycles' them and they are bad for the environment to get rid of. The Noco Genius 10 is about $100 USD and $160 CDN. So you might be able to replace your battery for that amount but you still have the pain to do it. You can also boost your battery if it is dead but this is often inconvient.
I was asked; "I plug my car in so what's the difference?" Plugging your car in keeps your engine warm so it has an easier time to start in cold weather. A device like the Noco Genius 10 keeps your battery alive at the right voltage.
This version of the Noco cannot be used to boost a vehicle, we do have a charger that does have this functionality that we take overlanding. Subscribe to catch our review on it soon.
Here's what the Noco Genius 10 looks like out of box and in-use.