Ever considered taking one of your mobility challenged friends or colleagues on a 4wd adventure in your vehicle?
Anyone with a mobility issue together with their family or support team would really benefit from the experience. If they hold a current driving licence you may even invite them to drive some gentle off road terrain under your guidance if their mobility issue allows.
Even if they are unable to drive then they can still enjoy the experience of a 4wd adventure with you and your friends.
Everything is Possible with the right attitude of Ability not Disability.
You too will enjoy their experience.
This content was developed by and owned by Paul Sinkinson, Xplorability owner. Paul is a 4wd Defensive Driver Training Consultant/Trainer and Programme Developer.
Whatever your Country or Region you may know a friend who may benefit from a trip out with you to see the rural tracks and the opportunity to take in the laid back country lifestyle and soak up the atmosphere.
Take time out with them so they can view all the panoramic views of the the places you enjoy with your 4wd vehicle.
If your vehicle is suitable for their mobility issue and they can drive safely under your supervision then you'll enjoy the smile on their faces and the day together.
Go Adventure Together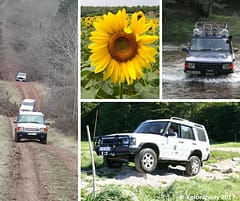 Following on from my own and with me, a number of my 4wd colleague's successful involvement with Land Rover UK over the past 17 Years and, more recently my own local team with a number of charitable organisations we have been able to provide 4wd Adventures and Challenges here in regions of the UK and France giving an opportunity for many who have mobility issues as a result of active service in the armed forces or other issues in civilian life.
Many have since purchased and adapted their own vehicles and now enjoy off-road voyages with their family unit.
Paul Sinkinson LRE Instructor/Host working with Landrover Experience and Phil Packer at Eastnor Castle UK for the Help for Heroes Adventure Day in August 2009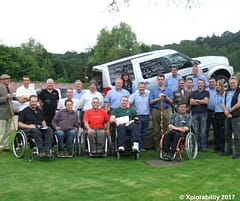 Comparison test for Land Rover Experience UK between the Land Rover Discovery 2 & Discovery 3 using Mobility Hand Controls.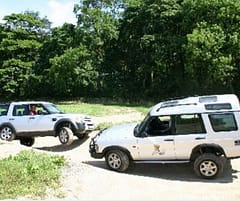 This post is dedicated to a colleague and friend, Andrew Jeffrey BBC Producer who sadly passed away recently. Andrew was a mainstay in promoting 4wd for those with Mobility Issues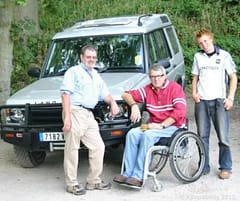 Mobility 4wd Challenges and Adventure for all can be achieved.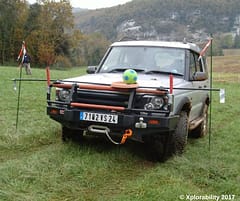 This Landrover Discovery is fitted with Push/Pull Hand Controls and Automatic Gearbox and has been used by many, many drivers with mobility issues.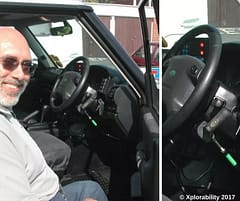 It also has an easy access wheelchair ramp, shown here with one of my colleagues.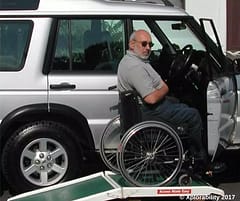 There are many types of easily installed and competitively priced Hand Control systems that can be fitted in minutes.
This is the Lynx System which was installed on all the Land Rover Experience Vehicles for a Help for Heroes event.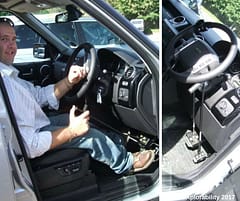 Previous Article: Winch Recovery
Check out fiction thriller novels by Paul here.
Copyright
This content was prepared for the Off-Road Discovery Website by Xplorability 4wd Training
The Content - All Photographs and Photographic Copyright and All other Rights other Reserved October 2017. S.W. France. This content may not be copied or reproduced without the written consent of Paul Sinkinson – Xplorability Training.
For Use Only in 4wd and Light Vehicle Driver Training.
Not for Re-Publication, Distribution or use outside the Xplorability Training Programme