Contents
Hazard Identification and Safety Assessment
Use this as your main guideline for all of your off-road excursions.
Is this vehicle capable of negotiating this hazard with my experience?
Will I maintain vehicle to ground clearance at all times? Can I maintain traction throughout the hazard?
What is the best approach and route through?
Can I get through to a safe point and back to where I started?
What are the environmental consequences?
Do I have permission to be here? How do I minimise my impact on the environment?
If I fail to get through, what are the possible outcomes?
Could I slide off the edge of the track? Could I get washed down-stream etc?
Is it worth the risk? Is there a sufficient safety margin?
Can I drive this section with no risk to my passengers and my vehicle, any bystanders or to myself?
If don't make it, do I have the equipment and knowledge to recover the 4wd safely?
Is there another 4wd handy to assist? Do I have a winch? (This could be your safety margin).
Am I capable of negotiating this hazard with my experience?
Be honest here. A hurried decision could lead to disaster.
Only after a positive answer to ALL of the above are you safe to proceed
Tow straps were included in recovery equipment and knowledge to use it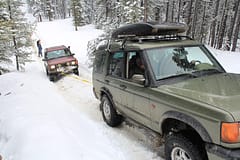 Safety
Safety is paramount in all situations. A good off-road driver is one who knows their personal limitations and the limitations of the vehicle they are in and drives accordingly.
Always ensure you set realistic safety margins.
Remember, the driver always gets the best ride because he / she is aware of what will happen next. Passengers could for instance, be harmed by hitting their head on a door pillar etc. Always warn passengers of rough sections so they can brace themselves.
All passengers and the Driver MUST wear seatbelts while the vehicle is moving.
Ensure ALL cargo is secured before beginning your journey either on or off road.
Before carrying out any form of vehicle recovery, please ensure you read and understand all safety precautions required for the recovery section.
Be prepared for accidents. Carry a fire extinguisher, first aid kit, travel rug, spare clothing and some form of communication, check out our review of inReach vs Spot satellite communications.
If venturing into an isolated area, ensure you inform someone of your intended route and expected return time.
Remember, there is safety in numbers so attempt to travel off road in manageable sized groups.
Before driving on any private land, ensure you contact the Land Controller and request a Hazard ID Register. Ensure you are aware of any potential dangerous situations you may encounter.
Keep out of any areas closed off to you.
Feelin' a few bumps and lovin' it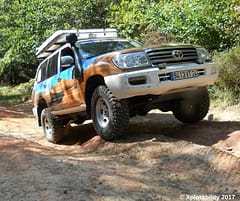 Environmental Impact
We are very fortunate in to have so much land with so many wilderness trails just begging to be explored. To ensure future generations can enjoy the pleasures of wilderness driving we all have a responsibility to drive with consideration for the environment and for other wilderness users. "Tread Lightly" is a Worldwide campaign growing in popularity. I believe all offroad users should support this campaign and learn to drive within its guidelines.
Respect the rights of others Educate yourself. Avoid damaging the environment Drive responsibly
Previous Article: Geometric Limitations of a Vehicle
Next Article: Ascending Hills and Slopes
Check out Paul's action thriller novels here.
Copyright
This content was prepared for the Off-Road Discovery Website by Xplorability 4wd Training
The Content - All Photographs and Photographic Copyright and All other Rights other Reserved October 2017. S.W. France This content may not be copied or reproduced without the written consent of Paul Sinkinson – Xplorability Training
For Use Only in 4wd and Light Vehicle Driver Training.
Not for Re-Publication, Distribution or use outside the Xplorability Training Programme