Contents
What is so great about the iKamper Skycamp?
Opens and closes in minutes. No other roof top tent is this quick to set up and take down. No large tent that I'm aware of is this fast! This was the #1 reason we chose this tent, we wanted very quick set up and take down.
Hard cover. No top cover you need to remove and store.
Stores on your vehicle and low profile. Our Land Rover has a lift, large tires and is a tall vehicle to begin with and this still fits in our 8ft garage door, just like a ski box. Narrower than other comparable roof top tents. We thought about getting a trailer but we didn't want the hassle of storing it (there isn't room at our house). When we want to go on an adventure we want to just head on out.
King mattress. Once everyone is in sleeping bags there is more than enough room for a family of 4 (probably 5), even 4 adults. If you are extremely tall you might need to do some measuring.
Windows. There are two side windows and a skylight. You can have just bug screen, just clear, full cover or any combo of them. So many window covering options and views to enjoy. And the views from a roof top tent are awesome.
Dark interior. The tent material, flame retardant poly cotton, is thicker than our regular tents which creates a much darker sleeping environment than our other tents which is amazing for putting kids to sleep before the sun goes down. We keep the skylight open after dark to let in a little light and star gaze if the sky allows. The black out material also keeps the tent from getting too hot in the morning which means you and the kids can sleep in longer too!!
Warmer than a 3 season tent but also cooler in the sun. Being off the ground and the heavier canvas definitely keeps the tent warmer, it's usually gets to at least 15 C at night, possibly 0 C so this is good for us and we can crack the windows if warm although the black out keeps the sun from affecting internal temps too much in the morning.
Fold back fly. You can stand up and out of skylight window if you really want to.
Storage inside. We store our 4 sleeping bags, iKamper shoe store and other storage holders inside the iKamper, no need to pull these items out to close it up and travel. You do need to push the sleeping bags to the far side of the tent so you aren't folding them in the joint.
Additional features. iKamper comes with several additional products you can purchase including longer ladders, shoe bags, interior storage, iPad/movie holder, etc.
Cost. The iKamper compared to tent trailers, campers, trailers are significantly cheaper. $3600 USA and ships free to North America seems very reasonable for what you get.
Anti-theft locks If you park outside just adds some peace of mind so no one can get into your iKamper or take it off your rack.
Set up of iKamper:
Take down of iKamper:
Video of installing Anti-Theft Locks:
What would we change?
Moisture under mattress. We noticed moisture build up under the main bed which is made of metal (not the fold out section) and read that others also experienced this in other roof top tents. We added very thin 1/4" closed cell foam mats under the mattress and this has taken away almost all condensation except for the very small sections on the sides that we weren't able to reach with the foam which are minimal and we'll do in future. Cheap and easy fix and still folds up no problem.
We were a little stressed about making the purchase and shipping from the USA to Canada, wondering the length of time crossing the boarder, if there were issues etc. The iKamper team answered all of our emails (and there were many) and from when we purchased to showing up on our front step was less than two weeks!
Home Delivery of iKamper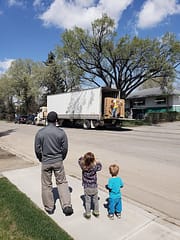 We wanted an easy set up camping system, compact to travel with and comfortable space to sleep and we found it!
The Kids Think The Tent is a Treehouse and Have Zero Issue on the Ladder, 2 Year Old Supervised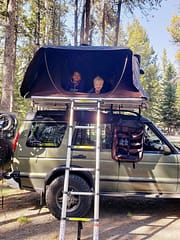 If you read this you are probably looking into a new tent / camping option. Good luck with your search and hope you find the right fit for you. Happy adventuring.