Contents
Own a Toyota Sequoia 2nd Gen? There are some amazing camping set ups around and we love to see what people are doing. Each person's budget, family size and requirements are different but here is what we have done for our Toyota Sequoia camping set up.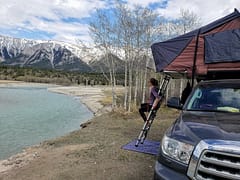 When it was just the two of us we built a bed system in our Land Rover or tented. When we had kids and grew out of sleeping in such a tight space we only tented. Then I (wife) slowly hated the set up and take down of a tent in rain and snow with kids nagging so we bought an iKamper Skycamp roof top tent to speed up the set up and tear down process. We also bought a larger vehicle, a 2nd Gen 2013 Toyota Sequoia. Not having tenting gear inside the vehicle freed up a huge amount of room for gear. There is a mattress in the roof top tent so we don't have to blow anything up and we can keep all 4 sleeping bags in it which is also a huge time saver. Why didn't we buy a trailer? We don't have a convenient place to store one and we often go places they can't get into.
Here is the roof top tent with the awning attached. We only setup the annex for for multi-day stays or if we expect bad weather during the day. In this case we were at a beautiful campground but it lacked privacy so the annex came handy.
Toyota Sequoia with iKamper Skycamp 4.0 and Annex
Our awning is an addition we love for shade and shelter. We use it even when we aren't using the tent. We have no pull from it when driving and it only makes a jiggle noise when on bumpy roads. We stop the noise by wrapping ski straps around the awning.
Our awning is the Thule Hideaway, our full awning review can be found here.
Many overland vehicles have beautiful storage interiors with shelves and drawers. They look awesome but our Sequoia isn't just for overlanding. Our gear changes each trip; 4 mountain bikes, rock climbing gear, stand up paddle board plus our usual food, cooler, stove, camp chairs, folding table, clothes, etc. We use Tupperware style bin for our 'camping' box which contains all our kitchen cooking items plus lighters, soap, fire sticks. We use a second bin for our dry food. Duffel bags and backpacks make up for the rest of the gear holders so we can easily grab our climbing rope and climbing gear in a backpack and head out for the day. We also have tools and recovery gear easily accessible at all times.
Our interior isn't beautiful but it's practical and easy to load and unload.
Good luck and have fun putting together your own camping set up.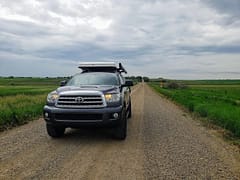 Compact when the tent and awning are put away for driving
Oh and if you are wondering where our dog sleeps, he's got his own 'room' on the backseat of the Sequoia. He also slept in our Land Rover, always preferring a vehicle to a tent. We crack the windows and use long magnet strips to hold screens to the outside of the windows so bugs don't bite him all night. Yeah, he's got a cushy life.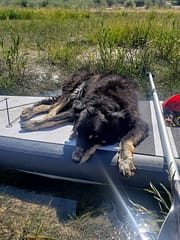 Charger enjoys stand up paddle boarding and when the water fun ends he'll use the board for a nap
Take down of our iKamper
You may also be interested in:
iKamper Rooftop Tent Review and Experience iKamper Hacks and Tips iKamper Insulation Review