Contents
Introduction
I (wife/mother of Off-road Discovery) would not categorize myself as a 'car' person. I'll admit I know more than I ever thought I would about engines, tires, diffs, and how to use a winch but all of this education happened after I met my husband. He's a walking vehicle encyclopedia. I give my dad credit for teaching me how to change tires - winters to summers and visa versa since the start of high school till every year until I moved out. I thought it was to make sure I never got stuck with a flat I couldn't change, but now I think he was on to a very clever use of child labour. I'm remembering that one for my own kids, thanks dad!
Our Adventure Mobile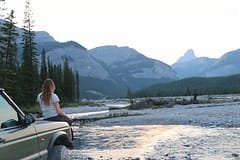 As a kid we had a lot of vehicles. We moved around including some overseas journeys which didn't make sense to take a car. Our cars were practical and I didn't think much of them. We had a suburban, camper and tent trailer over the years that were more adventurous.
As an adult I really liked my first car, a used blue Toyota Corolla. I tried to take care of it on my University dime and new employee salary. I said goodbye to my first car the year we got married and wanted a vehicle that would have more room for our skiing and camping excursions. Finding a new vehicle seemed tough with our big eyes and small budget. There were internet searches, test drives and talks with friends (and strangers) over beers. And then we found IT. A young photographer / designer was selling her Land Rover Discovery 2 to go travel the world with her boyfriend. Let's just say the advertisement photos were significantly better than any other used car photos I had seen. I was so excited about my new ride and the women selling the Land Rover seemed pretty awesome that we took a photo with her and the Landy. The whole buying process was quick, we took it for a ride and SOLD. Rover hasn't left our side since (even though we wanted to kick it to the curb a few times…oh Land Rovers why do you break…our hearts).
Sexy Used Car Photo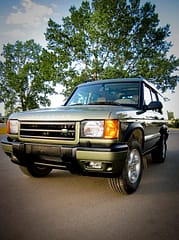 So this is how we found our 2001 Land Rover - it came to us with no modifications and ready for becoming a part of a new life. Since having the Land Rover and becoming somewhat of a car person, I'm seeing a divide between purists and non. I enjoy reading some people's die-hard comments on being one way or another but both can be fascinating and practical. In the end I respect people that find an enjoyment in the journey as much as the destination, and appreciate how personal vehicle choice is.
Bare Bones Disco, No Modifications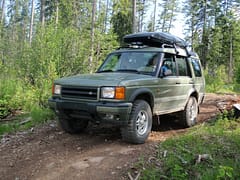 There are countless Land Rover jokes out there, and most are hilarious. It's not leaking oil it's sweating power. Maybe the fact that they have some particular issues and characteristics make them more loveable, I'm not sure. What I do know is that my family will be as whole as it is with or without our Land Rover but it is sure a hell of a lot more fun with it.
If you like to explore or have desires to get outdoors (and not get stuck on slightly ice roads in March) then a Land Rover may be for you. Seriously do your research, think about the lifestyle you will live and choose a ride that suits you and your budget. Once you have it you can always make it a little more "you" through upgrades and enhancements. Whatever vehicle you decide on though, enjoy your Adventure Mobile and enjoy the journey.
The Transformation of our Adventure Mobile has Transformed our Adventures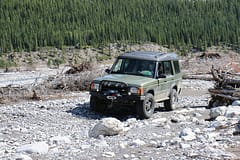 Land Rover Camping