Contents
Weekend Camping Meal Plan
Plan made for a family of 4 but can be for any size of group
Breakfast:
Saturday Breakfast: Pancakes from mix with maple syrup. Some of us love them with peanut butter. Add scrambled eggs and bacon for a more filling and gourmet meal.
Sunday Breakfast: Oatmeal with whatever fixings you like. We keep it simple with a little brown sugar or maple syrup. Plus fruit and yogurt on the side.
Morning Drinks: Coffee is always made. We have a stainless steal french press which we love since we've broken glass ones several times. We love our hot coffee in the morning. Bailey's may be added ;). Our kids usually drink water in the morning, we save juice or coconut water for a later day treat / pick me up. If a cold morning we make
Lunch:
Saturday Lunch: Pre-made sandwiches for the adults. Our kids don't like sandwiches so they get what they love - rice crackers, hummus, veggies, nuts and fruit.
Sunday Lunch: Soup to heat if not out hiking and wraps filled with whatever veggies, hummus, mustard, cheese we have left.
Dinner
Saturday dinner: Steak, potatoes and corn on the cob. Hearty filling meal. Pre-butter and season the potatoes and wrap in foil to cook on a fire. You can put corn still in the husk on a grill over a fire. Our kids love steak and we often grill over the campfire.
Sunday dinner: Pre-cooked pasta sauce and spaghetti with a salad. We like pre-cooked sauce so we can just re-heat and boil water for a quicker meal. We often buy the bagged salad we can just open and add the dressing directly into the bag. We are trying to reduce our waste which we find most challenging when looking for quick/easy food so we are starting to make salads in a bag we wash and reduce.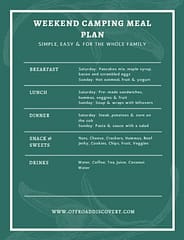 There are limitless meal options while camping! These are only to get you started or do it quick and easy. Enjoy!
Snacks and sweets
Bring your favorites! Here are a few ideas and bring lots of variety for the kids. Our kids eat a ton, we'd rather pack too much then too little. Nuts, cheese, beef jerky, crackers, cookies, chips,fruit (pre-cut watermelon is a favorite), pre-cut veggies, juice, coconut water and chocolate.
Kids love learning to cook outdoors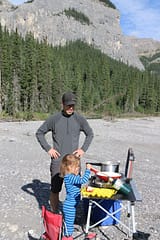 The grocery list / packing list:
Pancake mix
Maple Syrup
Oatmeal
Coffee
Fruit - apples, berries, oranges, melon
Sandwich makings - bread, cheese, turkey, cucumber (whatever your heart desires)
Wraps
Crackers
Hummus
Veggies - cucumber, carrots, mini tomatoes, sweet peppers
Nuts
Steak
Potatoes
Corn on the Cobb
Salad
Pasta
Pasta Sauce and protein like ground beef or turkey
Optional
Eggs
Bacon
Yogurt
Butter
Peanut butter
BBQ sauce, hot sauce, and other condiments
Salt, pepper, spices
Chips
Cookies
Granola bars
Tip: Don't bring the whole container of condiments put them in smaller containers that don't leak. Package pre-cut veggies in two containers so you have some each day.