Going on a weekend camping trip and not sure what to bring or need new inspiration for your menu? Here is our go to for a weekend away. Pre-kids we mostly backpacked and lived off just add water packets. Now that we camp near a vehicle we have a whole new world of food to explore but it needs to satisfy the whole family. Luckily even the kids believe food tastes better outside. Here is our go to camping foods that our 3 and 5 year old will eat.
Pretty much sums up how we feel about food when camping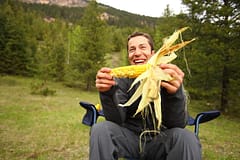 Photo by Robson Fletcher, thanks buddy
What you have to store your food effects what you can bring, so here's a quick summary of what we have to give you an idea of space and how we make a weekend away work. We have a rooftop tent so all meals are cooked outside. We store 'fridge' items in a large cooler (about 30L) and store non-fridge items in a reusable shopping bag. We travel with a two burner Coleman stove and use it for most meals. We also cook on the campfire. When in a campground we make the most of the metal grills on them. We also have a travel metal grate to cook on but only bring on offroad trips if we plan to use for multiple meals as it takes up a good chunk of space in our Rover.
We do as much meal prep as we can beforehand; chopping, pre-cooking, putting in separate containers, etc. Meal prep has been a huge sanity savor with kids, they are hungry after a day of activities outside and are not willing to wait an hour for dinner to be made.
Here's a meal plan we have used many times for a weekend trip. For us that is leaving Friday after work or school and heading home Sunday to be home for dinner (or grab it on the road if running late). We will make Friday dinner for the road to save time or pick up something to eat. We love eating meals in the car when traveling with kids, it's a great source of entertainment and huge time saver. We plan and eat our food according to the food getting warmer the longer we are away. We are looking at getting a travel fridge for longer trips but haven't pulled the plug on purchasing one yet. We try not to bring a huge amount of fridge required food due to space and weather.
Weekend Camping Meal Plan
Plan made for a family of 4 but can be for any size of group
Breakfast:
Saturday Breakfast: Pancakes from mix with maple syrup. Some of us love them with peanut butter. Add scrambled eggs and bacon for a more filling and gourmet meal.
Sunday Breakfast: Oatmeal with whatever fixings you like. We keep it simple with a little brown sugar or maple syrup. Plus fruit and yogurt on the side.
Morning Drinks: Coffee is always made. We have a stainless steal french press which we love since we've broken glass ones several times. We love our hot coffee in the morning. Bailey's may be added ;). Our kids usually drink water in the morning, we save juice or coconut water for a later day treat / pick me up. If a cold morning we make
Lunch:
Saturday Lunch: Pre-made sandwiches for the adults. Our kids don't like sandwiches so they get what they love - rice crackers, hummus, veggies, nuts and fruit.
Sunday Lunch: Soup to heat if not out hiking and wraps filled with whatever veggies, hummus, mustard, cheese we have left.
Dinner
Saturday dinner: Steak, potatoes and corn on the cob. Hearty filling meal. Pre-butter and season the potatoes and wrap in foil to cook on a fire. You can put corn still in the husk on a grill over a fire. Our kids love steak and we often grill over the campfire.
Sunday dinner: Pre-cooked pasta sauce and spaghetti with a salad. We like pre-cooked sauce so we can just re-heat and boil water for a quicker meal. We often buy the bagged salad we can just open and add the dressing directly into the bag. We are trying to reduce our waste which we find most challenging when looking for quick/easy food so we are starting to make salads in a bag we wash and reduce.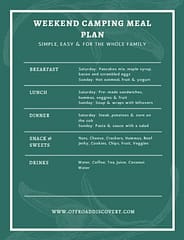 There are limitless meal options while camping! These are only to get you started or do it quick and easy. Enjoy!
Snacks and sweets
Bring your favorites! Here are a few ideas and bring lots of variety for the kids. Our kids eat a ton, we'd rather pack too much then too little. Nuts, cheese, beef jerky, crackers, cookies, chips,fruit (pre-cut watermelon is a favorite), pre-cut veggies, juice, coconut water and chocolate.
Kids love learning to cook outdoors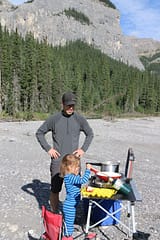 The grocery list / packing list:
Pancake mix
Maple Syrup
Oatmeal
Coffee
Fruit - apples, berries, oranges, melon
Sandwich makings - bread, cheese, turkey, cucumber (whatever your heart desires)
Wraps
Crackers
Hummus
Veggies - cucumber, carrots, mini tomatoes, sweet peppers
Nuts
Steak
Potatoes
Corn on the Cobb
Salad
Pasta
Pasta Sauce and protein like ground beef or turkey
Optional
Eggs
Bacon
Yogurt
Butter
Peanut butter
BBQ sauce, hot sauce, and other condiments
Salt, pepper, spices
Chips
Cookies
Granola bars
Tip: Don't bring the whole container of condiments put them in smaller containers that don't leak. Package pre-cut veggies in two containers so you have some each day.