Contents
Glamping (Glamour Camping)
Glamping is becoming more popular and a service provided by campgrounds or resorts. Search Glamping and the destination you are interested in visiting, such as Glamping Banff National Park. There are usually several options in popular destinations. A structure, bed, bathroom and possibly food will be provided for you. No camping gear is required but you get to experience the outdoors more intimately than going to a hotel. No need to invest or rent camping gear, the nightly cost is more expensive then camping but this may be a good option to try to see how you enjoy your outdoor overnight experience. I have not personally 'glamped' but some photos of places look pretty amazing.
Camping
There are tons of campgrounds and ways to camp; RV, trailer, tent or hammocks. I'll assume you will be tenting but these lists can apply to RV and trailers as well but these homes on wheels often come with kitchens, bathrooms and other comforts that tents don't provide.
Where to Start: Picking Your Camping Destinations
There are public campgrounds as well as free camping areas in Canada (Public Land Use Zones) that are not situated in campgrounds or have facilities. For your first camping adventures I recommend visiting an established campground since they all have designated washrooms, camping spots, flat area to tent, fire pit and picnic table. Most campgrounds have firewood for sale. Showers and flush toilets are not in all campgrounds so check what services the campground provides and make sure your expectations will be met. Some campgrounds take reservations and many do not. If you choose a campground that is in a popular location (this includes any campground in Banff or Jasper) and you don't have a reservations get there before 11am which is check out time so you can grab a spot. You are required to have a sleeping structure on your campsite so set up your tent and leave it there the length of time you will be visiting. If you are sleeping in a camper and leave during the day ask the campground attendant if you need to make special note of not having a sleeping structure on the campsite. Even if your campsite is booked and paid for the campground can/will give your site away if there is not a sleeping structure on it while you are not there. This is in the fine print of some campgrounds, but who reads all the fine print!
Packed and Ready to Camp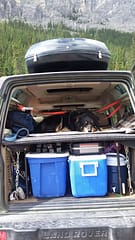 At The Campground
Yipee you are at your destination! Now to settle in and get ready for your overnight adventure. Once you reach your destination something like the following will need to happen:
Check-in with campground attendant or at the self register booth and pull into your camping spot.
Set up tent.
Check out campground map for washrooms, water pumps, garbage, playgrounds, amphitheater (some camp grounds have free talks/plays), firewood and potentially other services.
Talk to the campground workers if you want hiking requests or for general information.
Get firewood. The firewood is chopped in large pieces but you need paper, ability to make kindling and a lighter/match.
Never leave food or coolers on campsite while you aren't there, always put them back in your car or wildlife may help themselves to your food. Have a fear of bears or wildlife? Keep your food out of your tent and packed in your car at night. Nothing to attract hungry animals.
Relax, explore and enjoy.
Beautiful Camping Destinations Waiting to be Found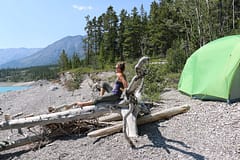 Camping Gear
Before you head out on your camping trip you will need to gear up. You can purchase, rent or do a combo of both.
Camping gear can easily be rented at some outdoor retailers and universities. For example:
You can purchase camping gear in a box store (Canadian Tire / Walmart) or an outdoor specialty store (MEC / REI / local stores. Keep in mind the gear from each place may differ in quality, durability, warmth and function. You may not need the most expensive gear but if it is cold in the evenings where you camp seriously consider the sleeping bag temperature rating before you purchase.
Below is a basic camping gear list, some items may be considered optional to you such as pillows or hot dog skewers but it provides a comprehensive list that could make your trip enjoyable.
Basic Camping Gear Checklist:
General:
Tent (we use the MEC Cabin 6 for most trips to fit 4 people plus dog comfortably)
Sleeping bags ( remember when purchasing - warmth in the wilderness is important)
Sleeping pads (we always use Therm-a-Rest, even if car camping we don't have room for anything that takes up too much space)
Pillows (stuff sacks that turn into pillows are handy)
Chairs for around fire
Flashlights / headlamps (one for each person is best. We like a camping lantern for the picnic table too)
Kitchen:
Larger Tupperware container to keep all Kitchen items together
Stove and fuel (unless you plan meals around fires only and non-cooking foods)
Pots / Pans
Cooking Utensils, cutting knife
Plates, cutlery, cups, travel mug
Cutting board (so nice to not cut on plastic plates)
Can opener, bottle opener, cork screw (Multi-tool usually covers all of these)
Coffee pot (plunger or peculator)
Large water container for cooking and drinking
Water bottles that can be refilled
Grill for fire or hot dog sticks
Cooler: Food and drinks (everyone tends to eat more camping, bring more snacks than you think you will need. Never hurts to have extra apples, granola bars, chips to grab)
Bucket to wash dishes
Dish towel and cloth
Camp suds (biodegradable multipurpose soap)
Dish cleaning container and sponge
Personal:
Duffel bag to hold items
Bug spray / sun screen
Swim suits and towels
Hiking shoes / runners
Sandals or crocks (use for easy in and out of tent)
Sunglasses
Clothing:
Socks
Underwear
Long johns (also good as PJ's)
Pants
Shorts
T-shirt
Long sleeve
Warm sweater or jacket
Rain jacket (great top layer for warmth if needed)
Sun hat and toque if cold in evenings
Bathroom bag:
Baby wipes (quick face and hand cleaner)
Camp suds (great for everything)
Toothpaste, brush
Hair comb
Bug bite treatment
First aid kit (a must)
Little mirror
Toilet paper
Hand sanitizer
Chapstick
Extras:
Bug Tent (we love our MEC Hootenanny, packs down super small and good in rain)
Multi-tool / Swiss Army Knife
Small backpack for H20 etc for walks
Books, frisbee, football, cards, board games, etc
Lighter/matches, newspaper, wood
Axe or saw if need to chop wood
Bear spray
Picnic blanket (great for babies and small kids)
Tarp and rope for rain / shade protection
Folding table (we use one for our stove)
Garbage, recycling and dirty clothes bags
Paper towel, facial tissue
Compass, Maps, Hiking Guide Books
National Park Pass
Binoculars
Camera
Pails and shovel for kids to play with. Use these pails in your tent at night if you have a sick kid or you noticed a large marshmallow consumption. EVERY family I know that camps has had a kid puke in the middle of the night in a tent and all have thought if only there was a bucket in the tent. Cleaning up puke in a tent in the middle of the night is as awful as it sounds.
Our Camping Set Up When Expecting Rain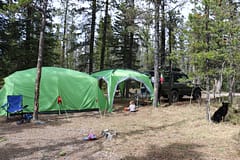 Backcountry Camping
If or when you are wanting to take your camping to the next level of adventure look into backcountry camping. If you want to get a taste of a backcountry trip before taking the plunge into camping check out backcountry huts. Backcountry camping offers the combination of hiking and camping with an experience to see places only a few people see.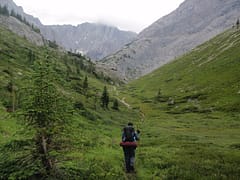 Last Tips
Plan your first camping trip close to a town, such as Banff, then if you need anything like more food your close to all amenities
Relax, sleeping and daily life outdoors is basically the same as indoors - you can work through it
Have fun and call a friend, camping is fun solo but also great as a social event
Don't over think it or get held back on the steps required to get ready, the first time is the most effort and going forward it will only get easier! The effort is worth it!