Contents
Where To Camp for Free
Free camping in Alberta and British Columbia can be found on government owned land. These land areas can be called:
These areas are not National or Provincial parks, however these public land areas still have rules and possibly restrictions depending on the particular locations. Free camping takes a little more research and planning than driving to a campground where there is someone there to tell you the rules. Check out the links above and look at the maps of the areas you are interested in camping. Each area may have different rules so check out those as well to make sure the places meet your expectations.
What Do These Places provide or look like?
These camp free zones are usually on large areas of land and can be in the prairies or in the mountains. The areas may be actively logged, allow hunting, shooting, off-roading, boating, hiking, climbing, biking and just about anything else you can do outdoors. The wide variety of permitted activities may make you think twice if these are the right areas for you. There may be some designated camping spots but usually you camp anywhere which creates a degree of adventure trying to find and decide on where you want to set up your camp. Government officials may stop by to check on fire safety or if there is a fire ban ensure the rules are being kept, but there are no 'quiet times' or official to stop a rowdy party from happening all night long. This is where deciding on where to camp may take more time to ensure you find a space to suit your expectations.
There are usually no facilities at all which includes outhouses so if you are tenting a shovel is required unless you want to step in something gross, have your dog get into it or attract animals. RV's of course win in having a bathroom on wheels. Responsible camping choices are required to keep these places beautiful - remember a sturdy garbage bin or bag as all YOUR garbage has to be hauled out by YOU (we all have that responsibility).
Camping in Ghost PLUZ, Alberta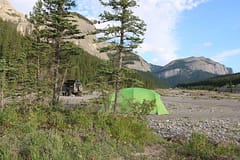 My choice in writing about free camping is to give people an idea of what these places are like. I've recently had a friend camp on PLUZ with her family on a long weekend and there was a loud party till 4am down the beach. This isn't always the case in these areas but is a possibility. I see people in facebook groups, on forums and just chatting in a pub about wanting to figure out how to camp for free. Many people aren't aware that you are literally just pulling into the wilderness and camping. There are no campground services and conveniences many are used to. For people that have decided to venture into these areas we have run into MANY very unprepared groups. We have a winch on our vehicle and people that see us at a distance will hike kms to come ask us for help because they took a crappy rear wheel drive sedan into the backcountry and thought if they drove fast enough they'd make it through loose thick gravel or others have left their car lights on all night to see so have an dead battery and the list goes on. We sometimes feel like backcountry AMA! Other people we've met are just ill equipped like running out of food with small children or not bringing matches for a fire. If you are new to camping or have only camped in campgrounds take extra time to prepare for these wilderness areas. It's not just "convenience", it comes down to safety.
What to Expect But Not Promised:
Wilderness
Beautiful locations
Few people (most common)
Lots of people (really depends on where you go and if a long weekend, etc)
No cell service
No facilities which means no outhouses, no campsites, no power, you get the idea
Off-road vehicles such as dirt bikes and ATVS may be permitted
Guns for practice shooting or hunting may be permitted
Finding a camping location may be an adventure, some locations spots may be obvious or even designated other are camp anywhere which can be a little more challenging than it sounds to pick that perfect spot or one your vehicle can access
New cool friends
People that always need help with something
Peace, quiet and starry nights
Adventure
If you love adventure, exploring new areas, happy with rustic camping and can roll with the punches then get out and go to these places. They are wild and beautiful!
Rustic Camping in the Canadian Rockies