Contents
1. Kootaney National Park
Location
British Columbia, mostly accessed off Hwy 93
Boarders on Banff and Yoho National Parks
Closest towns and cities: Radium, Golden, Cranbrook
Driving
The majority of the park is accessed off a main highway (HWY 93) between the towns of Banff and Radium. Hwy 93 is a well maintained, two lane highway with no cell phone reception. The town of Radium is directly next to the west exit of the park and offers full services.
Why Visit?
This park tends to be a less busy than Banff and Lake Louise. There are plenty of well marked hiking trails to pull off an explore from Hwy 93 with spectacular views. These hikes include waterfalls, glaciers, canyons, lakes, rivers and views on views. There are both short approach hikes like Marble Canyon and longer multi-day options. Radium Hot Springs is a developed hot springs that is located in the park and a great place to relax after a day of hiking.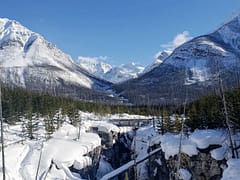 Marble Canyon is a short hike that follows multiple bridges over the canyon and through the new growth forest from the 2003 forest fire.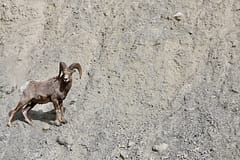 Big Horn Sheep reside in the town of Radium and surrounding area, it is extremely common to see them on and around the roads.
Staying Here
No towns are in the National Park but there are several towns that are near by such as Radium
Camping; including backcountry camping, tent and RV camping
Cabins and lodges for rent by private owners in the park including Kootenay Park Lodge and Nipika Mountain Resort
2. Jasper National Park
Location
Located in Alberta
The largest National Park in the Canadian Rockies.
Closest town is Jasper, located in the park
Why Visit?
Spectacular is the only word I can use to describe Jasper National Park. Banff and Lake Louise are beautiful but the Icefields Parkway drive from Banff to Jasper is worth the trip itself. If you go in the summer expect to see grizzly bears while driving, many waterfalls and towering mountains. Stop at Columbia Icefield to learn about and walk on glaciers or get a different view from the Glacier Skywalk. There are many beautiful hikes to choose from. Parking can get busy in the summer.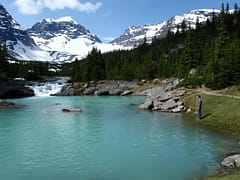 Near an Alpine Club of Canada Hut in Jasper National Park.
Staying Here
First come first serve tent and RV camping along Icefields Parkway
Jasper town site has several accommodation choices
Saskatchewan Crossing has motel and cabin accommodations
Columbia Icefields has a hotel and restaurant
3. Banff National Park
Location
Banff is the closet National Park to Calgary and is popular with 'locals' and tourists.
The town and area can get busy in the summer but there are plenty of places to explore.
Why Visit?
All types of outdoor activities are very accessible so bring your road bike, mountain bike, climbing gear, hiking shoes, paddle boards, kayaks, canoes and whatever else you enjoy doing. The town has plenty of stores, restaurants and cafes if that is more your pace. Enjoy a gondola ride, visit a hot springs, take a horse back ride or choose from many other attractions. There is something for every ability from short hikes to multi-day adventures. We spend the most amount of time in this National Park due to proximity of where we live and enjoy how many hikes are kid friendly.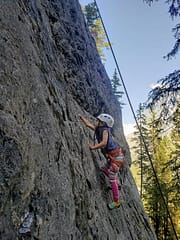 There are several easy access climbing areas in Banff, grab a climbing book from a local outdoor store and start exploring.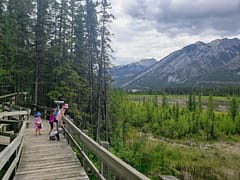 Banff Cave and Basin is well worth the stop with several beautiful boardwalks and for a small fee you can enter the museum and cave which is worth the price.
Staying Here
Every type of accommodation from hostels to 5 start hotels
Camping; backcountry, RV, tent and glamping
4. Glacier National Park of Canada
Location
Located off HWY 1 between Golden and Revelstoke
Why Visit?
There is world class backcountry skiing, mountaineering and hiking in the area. With Rogers Pass National Historic Site, a 1330 mile high mountain pass with an information center to learn about the Railway and Highway in the area it is unique and high in the mountains. Access this park off Highway 1 with many amazing short nature hikes to pull off and explore, each one different from the next and worth the stop!
Every time you see a hiking sign, pull over and stop. It may take you 40 minutes but they are all worth it, like this Cedar Forest boardwalk.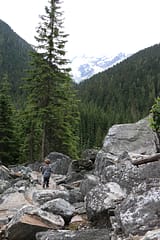 Boulder Nature walk, very fun for the kids to run around. Not suitable for a stroller.
Staying Here
Camping, no hotels that we are aware of
If traveling through these 4 areas take time to stop and enjoy what is waiting to be explored.