Contents
(Updated May 2022) We love our tailgate window but it stopped working more than once!
Major Tailgate Window Issue and Fix
We rolled our Toyota Sequoia 2nd Gen (2013 Limited) rear window down using the interior switch and we rolled it back up using the exterior key on the tailgate. Later in the day when we tried to roll the rear window down with the interior switch it wouldn't roll down. We tried with the key in the tailgate and it still didn't budge.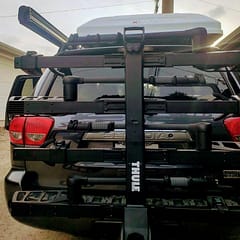 When Your Vehicle is Loaded Up Unrolling the Window to Access Gear is AMAZING
First thing we tried was removing the battery to resolve any jam protection protocols. This didn't fix the issue.
Interestingly we couldn't find a solution online for this problem, which was shocking. All the issues point to the window break causing the windo to be stuck but we could tell this wasn't the issue. We didn't want to waste time taking the door apart ourselves, fiddling with clips etc so we got it into a Toyota dealership to check out ASAP.
We were told the switch had broke. The switch is required by both the interior rear window button and the tailgate key. To replace the part including labour we were quoted $380 Canadian. We use the tailgate window often and decided to fix.
Minor Tailgate Window Issues and Fixes
Since our major issue we have had several (at least 5) other times our back window has gotten stuck in both the down and up position. In this situation the window is still moving a tiny bit up or down and then goes back to whichever place it is currently stuck.
Our fix isn't fancy but it worked. Use your key in the tailgate and turn the key to open and shut the window - do this up to 20 times if needed and the window has usually moved for us. Our last time this trick didn't work so we took it in the bumpy alley ways and used the interior switch - this worked!
We are going to try to clean where the window sits as it is dusty and not sliding into the top seal well. We know there are other issues your window can be having and other solutions but sometimes the fix is easy until you can sort out a long term solution.