We have owned our 2001 Land Rover Discovery 2 for a long time now and it has now had two different winches. We originially installed a Kingone Winch when we had our custom bumper built. Over a decade it rusted and stopped working. In 2021 we replaced the winch with Smittybilt X20 Gen2 Waterproof Winch.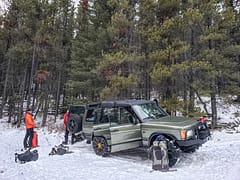 Going ice climbing often requires snow chains and a winch for those just in case moments.
Why did we choose the Smittybilt X20 Gen2 Waterproof Winch?
Wireless Remote. We sometimes off-road alone. Having a wireless remote can be nice in self-recovery situations.
Waterproof. Due to our snow and river filled environment, we decided to get waterproof. Our Kingone rusted quickly hopefully this will help.
Winch Cover. The elements really muck up a winch, again we hope this helps with the longevity of the winch.
Synthetic Rope. It came with a synthetic rope vs having to buy one after.
Availability. There are major stock and shipping issues with almost all products these days. We were able to receive this winch quickly.
Price. Smittybilt isn't the most expensive winch out there but it still seems reliable and good quality.
We had our local mechanic install and have only had to use as tests so far. We are excited to get out more and feel safer with a working winch. Good luck on your winch shopping!
Unboxing and Review Video