Contents
Custom Aftermarket Land Rover Discovery Bumper
We had owned our Disco 2 for a few years before adding an aftermarket bumper, winch and rock rails. I think my husband knew he wanted these upgrades the minute we purchased our Disco but it took me a few adventures to learn we needed them for my own peace of mind. We wanted a bumper for protection and a winch for getting ourselves and friends out of sticky situations.
Our first decision was if we were going to purchase a bumper or have one custom made. After doing some research our final decision largely came down to cost. We live in Canada and the bumpers we were looking to purchase we needed to order out of the USA, our dollar sucks and shipping just adds to the expense.
We lucked out and found a local builder that built us a custom bumper and we are happy with the choice we made. He did a great job makinging it simple, beefy and contoured to the front of the Disco 2. We based the design loosely off the Safari Designs and we required clearance for Kingone winch.
The bumper was at first coated with one of the Canadian Tire Husky Brand Bed Liner paints which lasted about a season and then started to show signs of rusting. When we had the engine out to be swapped we decided to have the bumper sand blasted and then coated with a spray on bedliner, we went with Line-X from Calgary South. This shop has amazing Customer Service and our Linex has held up perfectly over the years. We have spray on bedliner protection (Line-X brand) on our bumper, roof and rock rails. It is seriously tough and is surprisingly still shiny and looking great after several years.
Photos of Custom Aftermarket Disco Bumper
Removal of Stock Bumper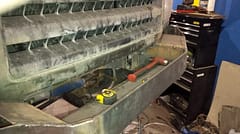 Welding of Custom Bumper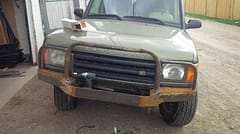 Bare Bones of Bumper Build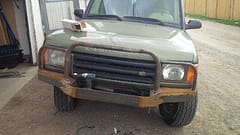 All Done! Bumper with Linex and Painted Kingone Winch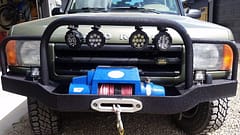 Winch and Wireless Winch Remote
We have a Kingone Winch TDS-9.5i with wireless remote. We choose the Kingone winch based off of good reviews and thought it was a decent price. Shortly after installation we were in a situation where we needed to use it. I've got to say it was a nice experience, after your buddy (or spouse) was outside and hooked up your rope all you have have to do is sit inside, turn the power on to your winch remote and start pulling yourself up!
Here is a link to a review of winches showing the performance of the TDS-9.5
Rock Sliders
Installed Terrafirma Rock Sliders with Tree Guards. Purchased from TRS Automotive in Calgary. They fit perfectly to the slightly upturned silhouette of the lower door sill of a Disco 2. We had them coated with Line-X to help give them grip when walking on them along the side of the vehicle, this is really handy when working on the roof rack.
There is a lot of terminology out there when it comes to Rock Sliders, Rails, Guards and Bars. Rock Slider and Rock Rail, I count these terms as the same thing. They are aftermarket, heavy duty rails that attach to the chassis to protect the door sills and bottoms from rock damage when you are out having fun.
When you are looking at purchasing any of type of side rock protection check out reviews as some dent went hit even though you think they should be able to take impact. We did have some Linex chipped off in a fender bender but no dents in the Terrafirma (yet) but we aren't aggressively using them.
The rock sliders have also helped teach our son how to walk! They are easy to grab and perfect walking height.