Contents
Does anyone know what a Watts Linkage is or what it does? Is it better than a Panhard Rod? What is a Panhard Rod? (chuckle)
We are not going to explain how these two pieces of equipment function (we will provide awesome resources that do) but we can tell you from firsthand experience the difference in how they feel and comparison of their durability.
Newly Installed Panhard Rod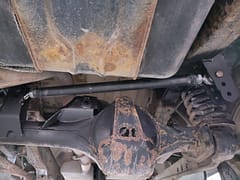 Our 2001 Discovery 2 comes standard with a watts linkage, which is standard in Discos. The watts linkage provides a stiff sporty ride. When off-roading, especially when the suspension has been lifted, the watts linkage is subjected to articulation movements which they can handle but only so well in terms of flex, durability and transmission of forces into the vehicle. We observed a consistent lack of durability in the OEM watts linkages, after replacing them 3 times within the course of two years it was time to look into a different solution.
Google searches brought us to the fantastic forum of Expedition Portal in which users had cut out their watts linkages and replaced them with panhard rod / track bar conversions. Many had used a pre-packaged kit from RuffStuff in California. While others chose to make their own from kits available for Jeeps. All reviews were positive with no one experiencing any on-highway driving characteristics while at the same time siting much more flexible off-road characteristics. This is what the Lads on 4WD Action would call "flexing like a sick giraffe" when you have your anti-sway bars disconnected.
We chose to get a pre-packaged kit from RuffStuff. All probably would have worked out if UPS didn't lose the bar out of the box (so we assume as the box was in rough shape upon arrival). Since our bar was lost and our time frame was short to replace we had to buy a replacement DOM tubing (basically the same cost as the kit). If you order any heavy parts like rodswe will now be asking them to tape all corners of the box.
We have developed a friendship at a local shop in Calgary, AB, Canada called Proactive Automotive that has done some really technical and very impressive off-road builds.
Our Buddy's Off-Roading Beast (yeah it's a Jeep) by Proactive Automotive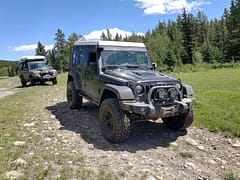 One of the Proactive Automotive owner's Creations on an Off-Road Adventure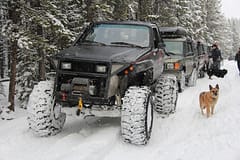 We were excited to have Proactive Automotive do the welding work on the back of our truck. The work took about 3 hours to cut the watts linkage off and locate the weld the rear mounting tours in.
Proactive Automotive showing us the Panhard Rod installation. Vehicle upgrades are always a family affair.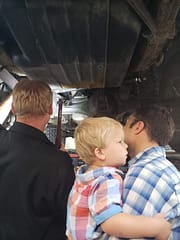 Immediately upon having the panhard rod installed we were luckily enough to embark on a multi-day overland trip fresh out of the shop. Heading out on our local highways with a fully loaded truck, with speed limits posted at 110km/hr, two words came to mind; flexible and smooth. We could feel the rear axle has been given some room to breathe and was soaking up way more bumps and twists which would have normally made their way into the cabin.
Overall definitely an improvement. One thing that was noticed was something I'd been told is called 'bump – steer' where the rear feels like it steps out to one side in a big compression at speed. We did feel this happen but it was nothing of concern and is far out weighed by the benefits of the additional flex and smoothness.
Since we've gone from a system that utilized 5 pivot points (Watts Linkage), to a system that only utilizes 2 (Panhard Rod). We believe there will be great improvements in durability and when service is required. Replacement heim joints are easily acquired and for a fraction of the cost of the expensive Land Rover watts linkage.
Up Close of the Heim Joints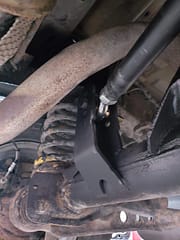 Link to favorite upgrade: