Contents
How many Land Rovers have you been able to see at one time? Today we got to check out over 30 Land Rover Defenders, Discoveries, Range Rovers and Classic Series. Get ready to see lots and lots of awesome Land Rovers.
Land Rover Show and Shine

We attended our first Land Rover Show and Shine event this weekend in celebration of the 10th anniversary of TRS Automotive (former called The Rover Shop) in Calgary, Alberta Canada. TRS has been our main Land Rover mechanics and are an amazing group of people that have helped guide and support our Land Rover journey. We highly recommend them for Land Rover fixes and enhancements.
Now here is the fun part, all the awesome vehicles (the people were pretty cool too).
Defender, Classic and Range at TRS Automotive Calgary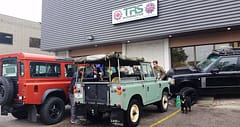 Worthy of Laura Croft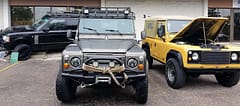 Why such a small rock?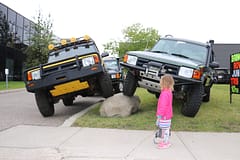 Ready for adventure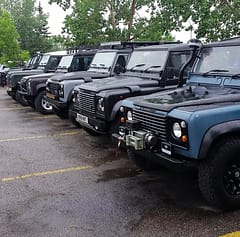 Couldn't find street parking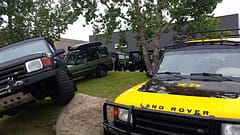 Is that a backpack?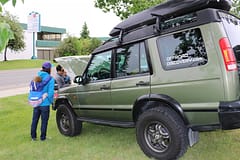 Restoration dream project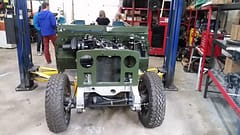 Can't wait to get out of the city
Springbok Supporters?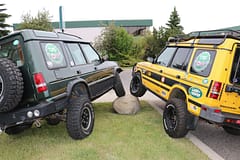 Devil's Head Coffee
We love Land Rovers and we love coffee! We didn't know we were going to run into our friends from Devil's Head Coffee at the event, they were providing the delicious refreshment. Devil's Head owners own a Jeep Rubicon that has been upgraded to the MAX from Pro Active Automotive a few blocks down from TRS. Even though we are in a big City there is a tight and supportive off-road community.
The Jeeps at the Show n' Shine, not a Land Rover but still pretty cool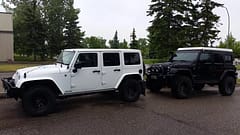 Enjoyed this event and looking forward to connect with the local Land Rover community again soon.