Contents
Roof Rack
We have the Thule High Gutter Foot Pack in conjunction with Thule cross bars. They have gutter in the name because they are meant for vehicles with rain gutters. Good simple lockable systems from the Swedes that adapts to hold ski box, canoe or wood really well. We needed the high clearance for our Land Rover roof and sun roofs. They say a max load of 75kg, I'm sure we have gone over that and they have bent a little but are tough and still work great. We've seen these Thule roof rack systems on all types of 4x4 vehicles, possibly the most popular system around?
We like our Thule rack because:
It is easy to attach
Simple turn knob to tighten
It locks
It is tough!
Challenges with Thule rack:
The rack isn't high enough to allow our rear sunroof to open
The bars stick out a bit on the sides but you can cut them down if you want
Overall the Thule rack is awesome, no complaints!
Ski / Snowboard Box
We love the pow and a ski box was acquired at the first signs of the leaves starting to change. Since Rover is so high and it has a swing away rear door we knew we needed a back opening ski box which are significantly harder to find then the more popular side opening models. Rear opening boxes means you can stand on top of your trucks back bumper to load items into the box. This makes loading the box extremely easy even for my 5'4" wife.
We have never had a back opening model before and did some research. We found that the only back opening models we found were limited to Packasport! Wow, possibly a market for other ski box manufacturers. We went with the 90 model which is one size down from the biggest which is still huge. We can fit 5 fat powder skis and 2 snowboards in at once. We also use the ski box year round for camping to hold our tent, sleeping bags, sleeping pads, axe and camp chairs. I love the low profile, wide, black ski box. The true beauty of the ski box is its rigidity due to the fact that it is fiber glass and felt lined which makes it virtually sound proof when driving at high speed orwhen skis and things jostle around. This is important when heading down down logging roads to trail heads. A ski box is an important addition to any skiers mountain vehicle.
We like the Packasport ski box because:
It opens from the back - number one reason to get it for a tall vehicle. Only design to get in our opinion
It has metal clasps to help hold the ski box lid down, no plastic cheap features
Low profile liner inside to protect the gear if it moves
Tons of space
It is black, we have another ski box that is tan, it's ugly
Low profile, good in wind and for mileage
Durable, no flimsy parts that you think will rip off (I've seen too many ski box tops laying by the side of the road!
Challenges with the Packasport ski box:
Cost if buying new. We found a used ski box but our size runs for about $1099 USD new. With the Canadian dollar this box is expensive but there aren't any other options like it.
Would buy again. Life changing ski box for ease of use and gear space.
Nice and Cozy Inside the Packasport Ski Box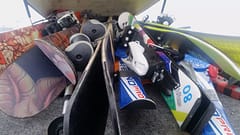 Hanging Out in the Back of the Land Rover After a Day Skiing, Box Open and Ready for Gear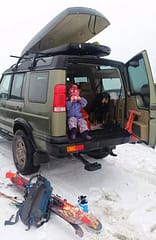 Bike Rack
We came across a used Land Rover brand dual pivot bike rack. A marvelous design which allows up to 4 bikes to be swung away right next to the passenger side of the vehicle which allows the rear door to open fully without having to remove the bikes. Yakima and other commercial bike rack manufactures make a full swing hitch mount metal bike rack, highly recommend this style for convenience! Even if the bike rack is a low stationary one at the back you would have to lean or step over to pull gear out of the back, that would be a pain.
We like our Land Rover bike rack because:
Made from metal, no cheap plastic parts integrated into the design
Swing arm, best feature and only design in our opinion for a swing door vehicle
Challenges with the bike rack:
We had to purchase cross bars to hang our bikes off of because our current bike frames can't slide up and on the rack
Heavy to attach
Large to store when not using
No locking features, need to attach our own bike locks
Watch your head, like to bang it on the top bar
Highlighted these challenges but are happy with the swing design and it works well overall
Below is a picture of Rover going up Mt Swansea, Invermere, British Columbia Canada. We did the little hike at the top and watched some paragliders do a solo flight for the first time. Then we got the pleasure biking back down (bro drove Rover back down). Attached a hyperlink to TrailForks that shows the mountain bike trails, if you are into biking check out the website it's pretty awesome. If you are visiting Invermere this mountain has hiking, biking, paragliding and hang gliding opportunities, it's a pretty awesome little mountain!
Mt Swansea British Columbia has Great Hiking and Intermediate to Advanced Downhill Biking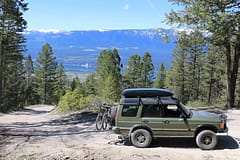 Including paragliding picture because it's so neat to see! The instructors were speaking with them on the radios the whole way down, it was awesome to hear and see. The kids LOVED watching! There are also glider planes that are fun to watch from the mountain top.
Pre-launch First Solo Paragliding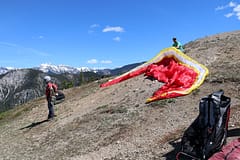 Paragliding Over Invermere BC