Can't get the drivers side door lock actuator off? Watched a million videos already? We have the final trick to get the driver side door lock actuator off! We couldn't find this in any other video. These steps are the same for doing a door handle replacement that has a lock.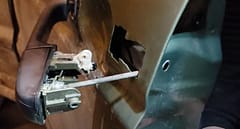 This video shows a 2001 Land Rover Discovery 2, drivers door actuator and handle fix
Can't get the video for whatever reason (likely in your garage with slow service - we've been there!). PUSH the drivers side door handle toward the front of the vehicle to get the door handle unattached from the vehicle. It is hard to dislodge but it will come off.