Contents
Gearing up the Munchkins
There are 3 main pieces of climbing gear harness, shoes and helmet. There are additional items that may make life easier or more enjoyable. We've compiled a list of what has worked for us.
Children's Climbing Harness
Kids climbing harnesses are full body so if they flip upside down they won't fall out. We have the Edelrid Fraggle II Harness, XXS size. The harness is advertised that you can use as a ski harness as well, which we haven't tried, we have the lil' ripper gripper ski harness. The climbing harness leg loops are one size and easy to slip on. You need to adjust the shoulder straps to fit the length of the child. There are two loops around chest high for the rope. The harness seems to fit snug and we haven't had any complaints on comfort. Our friends 3 year old boy has the same harness and it works well for them as well.
Climbing Harness Roped Up and Ready To Go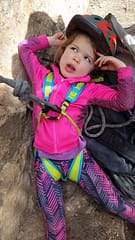 Children's Climbing Shoes
Our daughter could have climbed in running shoes but they are harder to try to keep tiny feet on a wall than climbing shoes. There aren't that many small kids climbing shoe options. We have Evolv Venga Rock Shoes. This climbing shoe fits small compared to running shoe sizes. I recommend either try on in a store or going a few sizes up. We got a larger size and she wears socks comfortably in them. The velcro and wide mouth of the shoe makes them easy to slip on and off. The shoes seem quality made and are working well.
3 Year Old Sized Climbing Harness and Shoes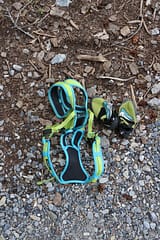 Children's Climbing Helmets
Our kids wear helmets all the time if playing at the base of a narrow crag and while on the wall. We are very cautious for rock fall. We are lucky our kids love wearing helmets. What parent of a toddler doesn't feel they should wear a helmet around no matter what some days!
The first time out with our kids they wore their bike helmets. Since then we realized our old climbing helmets fit them! The turn dial tightens enough for their little heads so we have been using our helmets. I've looked into children't climbing helmets but haven't pulled the plug to buy one yet. Our system right now seems to work.
Chillin' at the Crag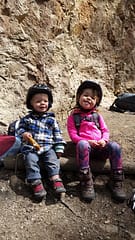 Other Gear Ideas
Chalk Bag
Our daughter likes to wear my chalk bag for fun but doesn't use it. An older kid could use one.
Picnic Blanket
If the crag or bouldering is a short approach we often bring a picnic blanket. We have a rubber bottom blanket but are planning to bring a old tarp next time because the blanket and our dog bed got covered in tree sap, which is crazy hard to clean.
Bags, Baby Carriers and Coolers
Prior to kids we could carry one 30L backpack each for our climbing gear. We now use 50+L bags to carry the extra gear, food, toys, diapers, etc. We enjoy short approach climbs because our 3 year old can hike it herself but it's a lot easier with a heavy bag and a baby to carry as well.
Pop Up Baby Tents
If you have a baby coming with you a pop up baby tent / play pen that has a full mesh cover is super helpful for naps, stop them from eating dirt and a place to entertain the kid.
Super Mom Ready For a Day at the Crag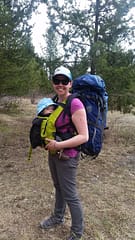 Rockin' It on the Rock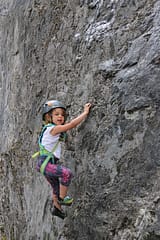 Check Out Other Great Climbing With Kids Posts
Climbing with Preschoolers - Born to be Adventurous
5 Tips for Climbing with Kids - Off-Road Discovery
Rock Climbing with Babies and Toddlers - Off-Road Discovery