Contents
We have 2013 2nd Gen Toyota Sequoia, here are the top features we love!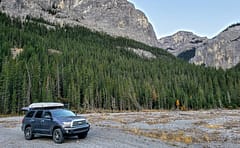 Best feature not listed is that it gets us to where we want to play!
Video of our Top Features
Top Features
Headlight Washers: no more dirty lights on highways making it hard to see
Switch to Turn Off Interior Lights: great for camping when doors are kept open
4 High: ability to keep in 4H
Reliable Engine: 5.7 V8 has been good for us so far
Smooth Suspension: even with a 2-inch lift
8 Seater: specifically the bench seats in the middle and back row were a must for us we did not want captain chairs due to how we carry people
Tail Gate Window Rolls Down: seriously one of best features for air flow and access to gear without opening trunk
Rear Window Wiper: it is a well thought out design and doesn't sit on the window when stored
Internal Storage: so many cubbies you won't know what to do with them all, we love our storage space
Leg Room: our Land Rover doesn't even compare, neither does our friend's Toyota 4Runner
Bluetooth Connection Quality: it works better than any other car we have owned, it connects immediately and has great quality
We said top 10 features but it was hard to stop sharing what we love! The video was shot in -22C/-8F so our vehicle is very dirty, it's just its winter coat. Safe travels everyone and enjoy what you ride.