Contents
Our Disco 2 came with the Original Air Suspension. If you are reading this you are likely aware this suspension will be a problem or already is having issues. We replaced the Air system with Coil suspension. We had to go through two Stuts, our first Brit Part Struts failed and we replaced again with Terrafirma. While going through suspension upgrades we found a squeak that was slightly driving us crazy, we finally figured out the cause and it was an easy fix! I've summarized the suspension process and steps taken below.
Our Land Rover came to us with OEM Air Bag Suspension which worked with Land Rover Self Leveling Suspension (SLS) system.
In the winter after parking outside in frigid temperatures the rear shocks would slowly leak air which would cause the rear of the vehicle to sag. We had to make the decision to either:
Replace the factory self leveling suspension air bags or
Source aftermarket air bags or
Swap to after market coils and struts
As we were going to be using this truck for off-road excursions we decided to install coils and struts that would provide a 2 inch lift. Why not get a lift in when you can?! The install included Britpart Cellular Dynamic Struts and Medium Duty Coils.
Britpart Cellular Dynamic Struts and Medium Duty Coils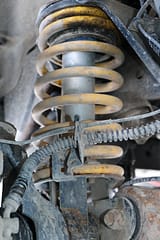 The ride on our new struts and coils setup was quite a bit more rigid than the OEM air suspension. Part of this we would later find out was due to the lack of weight on the front which could be helped by adding a steel bumper and winch . When we had these installed the stiffness on the front of the truck greatly subsided. After one winter season on the Britpart the front struts became very noisy, we found out they had failed . We decided to replace and install Terrafirma 2+ All Terrain front shocks.
The next squeak that needed addressing was in the rear. Upon first evaluating it was decided to replace the rear shocks. This decision turned out to be a biased one as a result of the front shock failure. Alas the rear shock replacement didn't eliminate the rear squeak!
The next step was to replace the rear sway bar link bushings which turned out to not be necessary. Upon inspection it turned out these would likely never need replacing and only required lubrication with some Silicone rubber safe lubricant. Finally a squeak free truck!!!
This only lasted until a sway bar link needed to be replaced. I am in the process of replacing the other one now. Don't forget the torx bit on 1/2 or 3/8 driver - it's an odd size to have on hand.
We have been using the original Britpart Medium Duty Springs for almost 7 years now. They have rusted a bit (especially on the rear wheels) but with a little shot of Rust Check from Canadian Tire every time I change from Winter Tires to summer and back it keeps the rust at bay. The Terrafirma Shocks / Struts have also been painted with Rust Check at each wheel change as well. I think this is more than acceptable considering we drive on snowy mountain roads all winter to go skiing, we have plenty of rocks and salt attacking our truck.
Handling a fully loaded vehicle with family and gear driving through the twisty mountain roads while keeping away from the semis is very fun. To qualify our awesome handling, we also have a 2012 Subaru Forester XT and a 2010 Toyota Rav4 V6 which are both great handling fast vehicles that we use in the city for commuting as they don't have enough room for our trips. When comparing the Rover to our other vehicles it feels great on the hwy. I have been playing around with tire pressure between 40 - 46 on the Cooper Discoverer ST tires and road feel is quite good. I shockingly never feel as if the vehicle is ever close to rolling. I attribute this to the low center of gravity from the heavy all-wheel drive system coupled to the lightweight aluminum body.
A little more power which may come in the form of a new transfer case from Ashcroft transmission with New 4.11 gearing may do the trick but don't want to affect the fuel economy too much. If the power transfer is easier maybe it will get better fuel economy?
Update since this project: